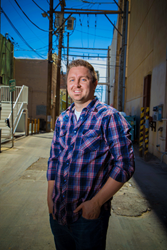 We're excited to be part of Work in Progress
Las Vegas, NV (PRWEB) July 03, 2014
NeONBRAND, a provider of digital marketing and SEO services and solutions to small and large businesses, today announced that they have joined Work in Progress, Las Vegas' network of creative and collaborative businesses and workers.
Work in Progress gives creative businesses and independent contractors convenient and collaborative tools and resources to enhance their creativity and improve their productivity. Membership in Work in Progress includes access to downtown Las Vegas events, a support network made up of entrepreneurs, thoughts leaders and other experts, business tools like Wi-Fi networks and member discounts on business services, and a variety of workspace solutions, including conference rooms, mail services, work lounges, storage and more.
"We're excited to be part of Work in Progress," said Kenny Eliason, owner of NeONBRAND. "Our business is highly dependent on knowing the newest technologies and understanding the latest trends in the industry. Being involved in a creative organization that encourages collaboration and thinking outside the box is exactly what our business is all about."
The move to Work in Progress will also help NeONBRAND connect with downtown Las Vegas, an area that the company has served – successfully – for years.
"Our clients are all over Las Vegas," said Eliason. "From the healthcare industry to tourism to home and business services like cleaning and pest control, we have services for every business in Las Vegas. That's why it's such a great opportunity for us to be even better connected with this community. It gives us a chance to be more connected with the Las Vegas tech industry, and to get to know our neighbors and customers even better."
ABOUT NeONBRAND
NeONBRAND provides customized digital marketing solutions for businesses of all sizes. With website design, search engine optimization services, content marketing and online brand exposure services, NeONBRAND can help your business create and execute an effective digital marketing strategy and improve your online conversion rates to generate more business.