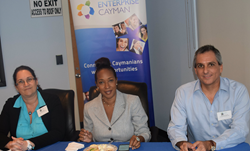 CEC represents Caribbean commerce at its highest quality and functionality, and should be commended for pioneering a successful economic zone in the region.
George Town, Grand Cayman, Cayman Islands (PRWEB) July 10, 2014
Cayman Enterprise City Chief Executive Officer Charlie Kirkconnell and Chief Development Officer Cindy O'Hara welcomed representatives of private firms and stakeholders from some 15 Caribbean countries to the CEC special economic zone offices in the HSBC Building in Grand Cayman in June. The visitors were participants in the Caribbean Export Development Agency Business Forum held in Cayman Thursday, June 26, and they represented CARIFORUM, the French Caribbean Outermost regions (FCORs), EU Overseas Countries and Territories (OCTs). After a presentation on Cayman Enterprise City and its benefits by Mr. Kirkconnell and Ms. O'Hara, the group enjoyed lunch and informal networking with zone clients, who had an opportunity discuss their CEC experience.
One of Caribbean Export's primary goals is to help facilitate trade between the territories of the Caribbean region, and regular business forums provide opportunities to develop important partnerships. Earlier this year, Executive Director Pamela Coke-Hamilton visited Grand Cayman to make a documentary about Cayman Enterprise City as the winner of Caribbean Export's Special Award at the 2013 Regional Investor of the Year Awards. Impressed with Cayman's special economic zone and pro-business environment, she took the decision to host the Agency's forum in Grand Cayman so members could have a first-hand look for themselves at Cayman's success story.
Coke-Hamilton stated: "CEC represents Caribbean commerce at its highest quality and functionality and should be commended for pioneering a successful economic zone in the region."
During the zone tour, participants learned that the zone, designed to attract international tech companies and knowledge-based industries, enables entrepreneurs and established businesses to set up a physical presence to benefit from Cayman's tax-neutral status along with a raft of appealing concessions granted by the Government. Just shy of 120 firms have already signed up with Cayman Enterprise City and the project has had an estimated impact on the local economy of just over US $20,000,000.00 plus a further US $300,000,000.00 over the next 8 years in construction.
"A cohesive network is key to establishing regional trade," said Ms. Coke-Hamilton. "Trade within the Caribbean is only possible through the establishment of strong linkages and our facilitation of business meetings between CARIFORUM, FCOR and OCT firms at CEC is a step closer towards building the kinds of relationships required to grow regional trade."
"We thoroughly enjoyed hosting the delegation at CEC and believe the very active business networking session between delegates and zone companies will pave the way for some fruitful business relationships," said Mr. Kirkconnell.
According to Caribbean Export, despite being part of a wider Caribbean region and the existence of partnership agreements, economic cooperation remains under-developed. The key to building trade relations is engaging firms and companies that do business. The Business Forum in Cayman brought together representatives from more than 30 companies who had the chance to promote products and services to new markets and to negotiate trade deals.
"CEC and Cayman generally are being recognized as pioneers in the Caribbean region," said Mr. Kirkconnell. "We have worked hard to make this zone a reality and it's encouraging to hear such positive feedback from business leaders across the region."
During the CEC event, Mr. Kirkconnell and Ms. O'Hara also met with representatives from the economic development agencies of Trinidad, Barbados and Jamaica to discuss collaboration and potential opportunities.
About Cayman Enterprise City
Cayman Enterprise City is a Special Economic Zone in the Cayman Islands focused on knowledge-based industries, technology companies and specialized services businesses. With a dedicated Government Authority and guaranteed fast-track processes, International companies can quickly and efficiently establish a genuine physical presence in Cayman. Businesses can take advantage of Cayman's jurisdictional benefits which include zero corporate tax, zero income tax and zero capital gains tax, along with a raft of special zone concessions and incentives. These concessions were designed to attract international companies from five specific high-tech sectors; internet and technology, media and new-media ventures, biotechnology, commodities and derivatives, and academia.
FOR MORE INFORMATION:
Call: +1-345-945-3722
E-mail: h.cahill(at)caymanenterprisecity(dot)com
Web: http://www.caymanenterprisecity.com
Facebook: http://www.facebook.com/caymanenterprisecity
Twitter: @CEC_Cayman
LinkedIn: Cayman Enterprise City