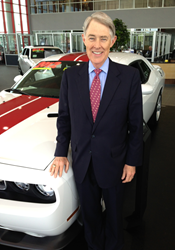 "We at Huffines Automotive are grateful to our brave men and women in the armed forces.Our contribution to PatriotPAWS is a small token of our appreciation for their sacrifices", says Mr. Ray Huffines. Sr. Officer Huffines Automotive
(PRWEB) July 03, 2014
We've been hearing much lately about the travails of disabled veterans in their frustrating quest for government assistance. Well, just in time for Independence Day celebrations, there is a most positive and exciting outcome for one naval veteran named, Devon Colbert.
Devon Colbert of North Texas has served both his country and community. After his military service, Devon became a volunteer firefighter at Rockwell Fire Department. He was subsequently hired by the Garland Fire Department as a firefighter. In December 2012, he was seriously disabled by a head-on collision which dislocated his neck, and also left him paralyzed from the waist down as a result of a spinal cord injury. Since that fateful time, he has made stunning progress with his physical therapy. He feels very optimistic about his recovery, and looks forward to going back to work.
This past Tuesday, on July 1, 2014, Devon Colbert and his family welcomed a very special new family member…Johnny, the service dog, who happens to be a Goldendoogle. This new addition to the family will help Devon regain a fair measure of freedom and independence-a second pair of paws…so-to-speak. This dog has received close to two years of intensive training, and can respond to as many as 60 cues or commands. Training does not come cheaply, and costs can easily add up to $25,000. There is an increasing need for this type of service dog, and over 100 disabled veterans are on a wait list. The dogs, once trained, can help veterans with ordinary chores, which would be difficult and time consuming otherwise.
Patriot PAWS, a non-profit organization, trains these service dogs. Their stated mission is to provide service dogs of the highest caliber at no charge, to disabled veterans, in order to help them with their physical and emotional independence. Huffines Auto Group Dealerships, in West Plano Texas, was the venue this past Tuesday at 11:30 am, where Johnny the Goldendoogle, was presented to Devon Colbert. Not only did Huffines Group donate $27,000 towards Johnny's training, but they also generously gave Patriot PAWS a Jeep Patriot, which is sorely needed to transport the service dogs to their clients.
Such dogs save lives. This is a most heartwarming story just in time for the Fourth of July. Many kudos to Huffines Auto Dealerships for their invaluable help in making this event a reality.
Featured on:
NBC 5 News : http://www.nbcdfw.com/news/local/Paralyzed-Veteran-Goes-Home-With-New-Service-Dog-265418611.html
CBS 11 News:http://dfw.cbslocal.com/video/10322732-special-graduation-for-veteran-his-service-dog/
The Huffines Auto Dealerships have been satisfying customers and forming lifetime friendships for more than 85 years. In addition to their Consumers Choice Award for Business Excellence, the Dallas Morning News recognized the dealership as one of the "Top 100 Places to work in DFW." Today, there are eight locations in Plano, Denton, Lewisville and McKinney.
About The Consumers' Choice Award:
Established in 1987, the Consumers' Choice Award® identifies and promotes businesses that deliver customer service excellence. The Consumers' Choice Award® has retained a leading independent research firm to conduct surveys in U.S. cities; Columbus, Atlanta, and Dallas. The winners are determined by consumers and not by a panel of judges. The survey covers a broad range of categories of interest to both the public and business communities. Its purpose is to publicly identify those establishments that have been voted by consumers as being their choice for excellence. The Consumers' Choice Award® is a most prestigious tribute to local businesses that serve their communities well. The program is encouraged by all levels of government and by business leaders. Find out more about The Consumers' Choice Award® by visiting http://www.consumerschoiceaward.com/