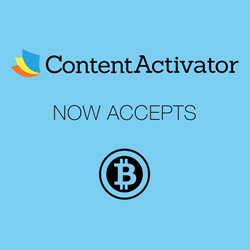 The possibilities that Bitcoin enable are incredibly exciting.
Dana Point, CA (PRWEB) July 03, 2014
ContentActivator announced today it will accept Bitcoin as a form of payment to customers looking to build responsive websites. By becoming one of the first website building platforms to accept Bitcoin, ContentActivator opened the door to customers anywhere in the world looking for alternative forms of payment. Bitcoin is the first decentralized peer-to-peer payment network powered by its users with no middlemen and offers secure and controlled transfers.
"The possibilities that Bitcoin enable are incredibly exciting," said Jonathan Farjo, co-founder and CEO of ContentActivator. "By offering Bitcoin, we allow customers anywhere in the world a convenient payment option for paying for their websites."
The options for payments are just one way ContentActivator stands out among its competition. ContentActivator also offers usage-based pricing which gives savings back to the customer, by charging for bandwidth usage opposed to a flat rate. This allows individuals and companies of any size affordable and robust websites that are cost-effective.
"ContentActivator has one of the most efficient pricing models available and scales to meet customers of all sizes," said Jonathan Farjo. "An individual can build a small website for just a few pennies per day, while enterprise customers can build highly custom websites on our platform, hosted on an incredibly powerful cloud-based infrastructure."
ContentActivator provides multiple payment options and a scalable pricing structure while offering users a multitude of features including content management, social network integration, search engine optimization best-practices, multi-user collaboration, world-class cloud hosting, multi-site management and integrated analytics.