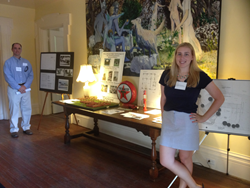 Gloucester, Va. (PRWEB) July 06, 2014
Thanks to the support of individuals and businesses from across Virginia's Middle Peninsula, believers of the value of archaeology and preservation, the Fairfield Foundation is pleased to announce that it raised more than $11,000 at its fundraiser at Glen Roy Plantation on June 28.
"The support and attendance of the community showed a commitment to our ongoing educational activities that help all of us preserve our shared heritage," said Dr. David Brown, Co-Director with Thane Harpole of the Fairfield Foundation. "We're humbled by this support and look forward to hosting a signature event like this each year."
The owners of Glen Roy allowed the foundation to use their private property and residence that dates back to a 600-acre land grant from English King Charles I in the 1600s for the summer garden party, catered by the Table at Wilton, to support the non-profit dedicated to public archaeology, education and preservation.
Sponsors included an anonymous Gold $1,000 donor and four Silver $500 donations from Chesapeake Bank, Off Grid By Design, Tidewater Virginia Historical Society and Mr. Nam Duc Vu and Mrs. Hoa Anh Tran.
Bronze $250 sponsors included The Other Moving Company, Spotswood Law Offices, Peninsula Heating and Air, Mathews Historical Society, Colonial Virginia Bank, L.U. Pearce Custom Builders, Mobjack Bay Marina, Kitty Kat Designs, Martin, Ingles & Hensley, LTD, Bank of Lancaster, Long & Foster (Tim Hill), Patti and John Sobieski, Wilton Plantation, Gloucester Toyota, Carlton Abbott and Partners and Preservation Northern Neck/Middle Peninsula.
Each member of the Fairfield Foundation Board of Directors also supported the event.
"As with any organization or fundraiser, it wouldn't have happened without the dedication of some key volunteers," said Harpole. "We owe a big thanks to Board Member Tom Karow for pulling us all together, as well as dedicated volunteers Eileen Smith, Richard Boyer, Forrest Morgan, Morgan Kempster, Chris Godschalk, Patrick Karow, Linda Bryson, Pattie Sobieski, Erin Schwartz, Gus Rhodes, the Virginia Homespun Dance Ensemble and Dan Hamilton, who produced the video we debuted."
While the star of the party was the efforts of the Fairfield Foundation in unearthing and preserving the history of the Middle Peninsula, and educating people of all ages along the way through hands-on experiences in the field, the location of the event took center stage.
The house and grounds of Glen Roy are among Gloucester County's most impressive antebellum plantations. The property was carefully restored by Miranda McClintic and Jay Smith, who combine a deep respect for the integrity of this treasured historic home with their own flair for modern living and stylish entertaining.
Couldn't attend the event but still want to support the efforts?
Become a member of the Fairfield Foundation. All members receive a triennial newsletter highlighting the various activities, along with updates of recent finds and upcoming events.
Memberships are welcome at any level from donating volunteer hours to corporate sponsorships.
Donate online at http://www.fairfieldfoundation.org or send a check to P.O. Box 157, White Marsh, Va. 23183.
ABOUT GLEN ROY:
Glen Roy Plantation sits on a slight rise that leads down to the wide waters of the Ware River. The imposing manor house was built in 1853 by William Patterson Smith. Early records indicate that the property was the original location of Ware Episcopal Church, the earliest colonial church in Gloucester.
Miranda McClintic and Jay Smith, the plantation's owners, began renovating the house in 2006, which included, among other detail work, rebuilding the 12 fireplaces, replacing damaged beams to shore up years of neglect, and transforming what's believed to be the oldest structure on the property, once used as a doctor's office, into a library.
Smith, a highly respected and skilled architect, as well as former Board of Directors member of the Fairfield Foundation, took on the renovation with his wife, a museum curator.