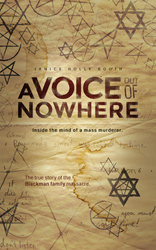 Sheilla Shea will some day be recognized as a pioneer in helping us understand the forces that could drive a mother to kill her beloved child.
Charlotte, North Carolina (PRWEB) July 03, 2014
In the July 2, 2014 episode of Dr. Drew on Call, and just days after her release from years of incarceration in a mental hospital, Sheilla Shea sat down with Dr. Drew Pinsky to talk about what happened the night she stabbed her 6-year-old son to death in front of her other children, then tried to kill herself. The interview is an astonishing view into the mind of person driven to violence by mental illness. Best-selling true crime author Janice Holly Booth says that Shea's story is all-too-familiar, as crimes committed by people with severe, untreated mental illness are on the rise, and yet there is little opportunity to understand what drives individuals to kill the people they love.
Booth is the author of the best-selling true crime book "A Voice out of Nowhere: Inside the mind of a mass murderer," which chronicles the case of 22-year-old Bruce Blackman, who suffered from undiagnosed paranoid schizophrenia when he slaughtered six members of his family in what was at the time considered to be one of Canada's worst mass murders. "The parallels between Sheilla Shea's case and the Blackman case are eerie," says Booth. Shea suffered from extreme paranoia and a belief that people were coming to hurt her and her children. Blackman suffered from the delusion that the world was coming to an end and that he had to do something about it. "In both cases, the killers believed that they were doing the right thing by killing their loved ones. Shea thought that by murdering her son, she was protecting him from the evil intentions of others. When Blackman killed his family, he thought he was preserving them forever. Shea and Blackman both believed what the voices in their heads told them: if they would just kill their loved ones, everyone and everything would be OK.
As to whether Shea's decision to speak publicly about the murder and her mental illness was designed to bring attention or to bring understanding is immaterial, says Booth. "The episode framed this in such a way as to shine light on a topic that is often relegated to the shadows," says Booth. "Mothers don't kill their children, sons don't kill their fathers…and yet, it happens almost every day, and most of these killings never make the news." Booth is buoyed by the direction taken by HLN. "It was very much a piece about educating the public, about asking for empathy and insisting that we all educate ourselves about mental illness and the devastating consequences when severe mental illness goes untreated. And Sheilla Shea will some day be recognized as a pioneer in helping us understand the forces that could drive a mother to kill her beloved child. I can't think of anything braver than that."
ABOUT JANICE HOLLY BOOTH: Janice Holly Booth is the author of two best-selling books: Only Pack What You Can Carry, a solo travel memoir published by National Geographic; and A Voice out of Nowhere, an Amazon #1 best-seller in the category of schizophrenia.