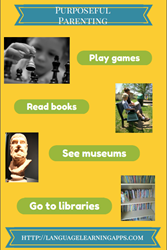 Reading books to children continues to provide vocabulary and grammar input they might not otherwise get.
San Diego, CA (PRWEB) July 07, 2014
July is National Purposeful Parenting Month, which hopes to foster strong, positive relationships between parents and their children. One goal is development of a love of learning. One way purposeful parenting happens is through modeling of the behaviors parents want to see in their children. A life-long love of reading can be one of the best behaviors parents build. But what can a parent do for a struggling reader who wants no part of books outside of the classroom? While summer should be a time free from the structure of the classroom, there are ways to make reading fun and involve children.

Read aloud to children of all ages. Reading books that are beyond their comfort level continues to provide vocabulary and syntax they will miss by not reading independently. And discussing books throughout the reading builds both language and relationships.
Let kids choose what they want to read including graphic novels and comic books. According to Becky Spence, author of How to Choose "Just Right" Books, a book is just right for a child when he knows at least 95% of the words, has strategies to figure out the others, is interested in the topic and has some familiarity with it. (Her book is available here: http://thisreadingmama.com/2014/01/12/how-to-choose-just-right-books/.)
Listen to books on tape. Libraries usually have a good selection of these. If you can, get a copy of the book to look at while the tape is playing. Other sources of books read aloud are story book apps on iOS devices and ebooks at Scribd. (http://www.scribd.com)
Play word games. There are commercial games such as Boggle, Apples to Apples, Scrabble, Scattergories, and others. Or play some no-cost games. Pick a category. After the first player names an item in that category, each subsequent player has to name one that begins with the letter that the previous one ended with. I Spy is a great way to build both listening and descriptive language skills.
Read the newspaper together. Older children will get caught up on current events as you read together, and the news can foster some wonderful parent-child conversations.
Keep a summer journal or scrapbook. You don't have to go away from home to take pictures of kids' activities and have them write about them. They can have a lot of fun just adding speech bubbles and captions.
Language Learning Apps, LLC was founded in 2011 by Susan Berkowitz, a speech-language pathologist for more than 35 years. Susan has worked with students with signifiant language learning disabilities - many of whom are nonverbal and non-readers - in public and non-public schools, and in her private practice, and has presented workshops and seminars around the country. Her apps are designed from intervention activities she used successfully for many years with many students.
Language Learning Apps, LLC's mission is to provide quality apps that aid students in developing effective language skills. See them at http://languagelearningapps.com.
Language Learning Apps, LLC can be reached at languagelearningapps(at)gmail(dot)com or at 619 980 0347