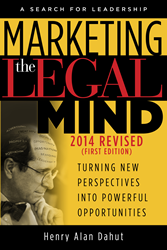 "This is a great book. . . . it belongs with the classics of law firm management and service marketing." —PM Magazine, Steve Barrett, Law Firm Strategist and Chief Marketing Officer
Los Angeles, California (PRWEB) July 07, 2014
Since 2007, more than a dozen of some of the nation's largest law firms, comprising over 1,000 partners between them, were rendered extinct.
The sudden decline and ultimate demise of such law firms, says Dahut, is attributable not only to a crisis in market conditions, but also to a crisis in their own identity, values and leadership.
When Good Times Turn Bad, False Brands Can Be Lethal
When economic times are good, partners are quick to attribute their firms marketing success to the clever branding they put into place years before. But when economic times turn bad, sometimes even the most profitable of firms, quickly devolve into a culture of fear and greed, which often marks the beginning of the end.
According to Dahut, at this point, it is usually too late to rally the troops, call for sacrifice or reach for those so-called cherished values that supposedly drove the firm's previous success. In truth, when financial times get bad, these values are nowhere to be found, except on the firms website and in their magazine ads and thick glossy brochures.
The Need For Truthful and Inspired Brand Identity
Dahut believes that when a firm is truly driven by its cherished beliefs and core values, it will begin to actually live by them, especially in times of adversity. It will pull together and rally behind its leadership, and with clarity of purpose, each member of the firm will do what is needed to weather the storm.
Dahut cautions that no matter how hard firms try to create a successful brand, the brand will ultimately fail unless it is an authentic and inspired expression of the firm's true values, culture, and capabilities.
Dahut makes the case that law firms that are driven mostly by wealth and power are firms that are destined to eventually self-destruct. This is because, no matter how much they try to brand, they will be unable to brand truthfully, and therefore will never be able to effectively compete against more progressive and enlightened firms— firms that do brand truthfully - those that do not solely worship wealth and power, but rather cherish personal and professional fulfillment.
A Crisis in Identity – the Drama of Dysfunctional Firms
When it comes to brand identity, where there exists a fundamental contradiction between what a firm says it is, and how it actually conducts it's business, both internally and externally, the firm will grow into a dysfunctional organization. In psychological terms, the condition is one of profound disassociation with reality.
What causes a firm to fail is a combination of adverse external conditions and an internal inability to come together and develop effective measures to withstand such conditions. Dysfunctional firms, no matter how big or profitable they are, can and do fracture under the pressure of financial adversity.
Firms of the Future
Recent history has affirmed that firms with illusory brands will find it increasingly difficult to compete against more progressive firms that actually live their brands – firms that have taken the time and effort to formulate identities that define and inspire them both personally and professionally.
Some of these progressive firms are made up of lawyers who view themselves not only as trusted advisors to their clients, but ultimately, see themselves as healers of human conflict. Too corny a proposition? Don't be so dismissive Dahut cautions -these firms are not only on the fast track to success, they are also poised to redefine the profession of law. If all this sounds like wishful thinking, you may want to consider what legal educators and state bars have to say on the matter.
Legal Education is Redefining the Legal Mind
Most new lawyers graduate from law school never having drafted a complaint or a contract, and never having interacted with a client. Yet for nearly 200 years, law schools have followed the same traditional approach to legal education; teach the students to "think like lawyers" and don't worry about practical skills, those will be learned in the workplace.
However, according to many law firms and their clients, "thinking like a lawyer" - left-brain linear logic and reasoning - is not the only skill required for excellence and success and a growing number of state bar organizations agree.
An increasing number of state bars, including those in California and New York, will soon be requiring law schools to develop mandatory classes to better prepare law graduates to enter the real world.
These required classes will focus not only on developing clinical skills such as actually knowing how to draft a contract or notice a deposition, but also business skills such as leadership, developing client-centric values, developing a professional identity, understanding the personal dynamics of client counseling and empathetic communication.
While some law professors scorn at the idea of teaching law students soft skills such as these, progressive law firms demand that young lawyers develop these skills before ever taking on their first client.
Client Demands Now Being Taken Seriously
Clients assume law graduates know the law, and if not, where to find it. What clients expect, and want however, is for lawyers to also have people skills, be resourceful, empathetic and service driven.
What's more, clients want lawyers to learn to resolve conflicts rather than perpetuate them. More and more clients want their legal problems resolved inexpensively, intelligently and quickly – not through the traditional "win-at-all-costs mentality" or by being just another paper warrior, but ultimately, as healers of human conflict.
Although many lawyers dismiss such thinking as foolish, naïve and unrealistic, the notion of lawyers being healers of human conflict is neither radical nor is it new. In 1982, U.S. Chief Justice Warren Burger envisioned what it meant to professionally serve ones clients. He said:
"The obligation of the legal profession is…to serve as healers of human conflict… [W]e should provide mechanisms that can produce an acceptable result in the shortest possible time, with the least possible expense and with a minimum of stress to the participants…"
The Evolution of Lawyers as a Transformative Process
Dahut stresses, first and foremost, that the development of a value-driven identity must be viewed as a transformative process. It is an intentional act of determinism. A true value-driven identity can neither be developed in a vacuum nor written by clever advertising executives.
Developing a value-driven brand identity must grow out of a fierce desire on behalf of the firm's leaders to be more than what they acknowledge themselves to be right now. To imagine a future that truly inspires them both professionally and personally.
In creating a value-driven identity, we as lawyers will finally have the opportunity, indeed the ethical responsibility, to help redefine our profession.
Nothing stands still. As the world changes so must we. Marketing The Legal Mind - 2014 makes a persuasive argument that the legal profession need no longer be chained to the stale and self-serving values of the past – values that no longer serve society and which have kept lawyers from realizing their greater potential individually and as a profession.
About The Author
Henry Dahut, attorney, author, instructor and law firm brand marketing advisor has consulted with AM-Law 500 firms on brand and client service management and is the author of the best-selling law practice management book, Marketing the Legal Mind--A Search for Leadership 2014.
Dahut has been a special advisor to the State Bar of California, Law Practice Management and Technology Committee, and has been a member in good standing of the California State Bar since 1986.
Dahut is currently active in contributing to the development of legal education reforms and has participated in state bar meetings involving the formulation of relevant and useful law school education. He is currently developing specific law school courses designed around practical skills development in the areas of client counseling, formation of value-driven client relationships, law practice leadership, client-centric counseling, practice management and professional ethics.
Marketing the Legal Mind Endorsements
"A compelling and analytical roadmap to growing your law practice and a must-read for law firm leaders." —Timothy Corcoran, Martindale-Hubbell, Former VP, Market Planning
"Henry's Book is a must-read for any professional interested in excelling at law firm marketing." —Aleisha Gravit, CMO, Akin Gump
"This book is a must-read for all lawyers. Henry really understands the art of law firm marketing." Perry Viscounty, Latham & Watkins, Partner & Chair of Global Marketing Committee
"This is a great book. . . . it belongs with the classics of law firm management and service marketing." —PM Magazine, Steve Barrett, Law Firm Strategist and Chief Marketing Officer
"This book guides lawyers step-by-step through the big-think and deep-think that are the essential foundations of successful legal marketing." —A Elowittt, JD, Former Chair, Law Practice Management Committee, State Bar of California
"A must-read! This book presents compelling arguments for why legal professionalism must include business professionalism." —Harry Ruffalo, Professor, University of Wisconsin School of Law, author of A Student's Introduction to the Business of Law
"Henry Dahut's book is wonderful and thought-provoking." —Linda Hazelton, Chair, Education Committee, Legal Marketing Association
"This book should be required reading in law school along with property and contracts." —Professor Myron Moskovitz, Golden Gate University School of Law
"This fascinating work combines business theory, human nature, and even brain science in a compelling way." —Arnold Deutch, MD, UCLA Clinical Professor, Department of Psychiatry and Neurology