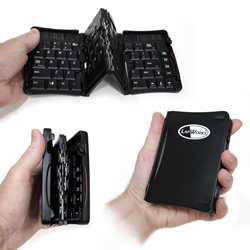 Nothing beats the feel of a real keyboard and the confidence that *precisely* what is typed will appear in the document.
Rancho Cucamonga, CA (PRWEB) July 10, 2014
With over 2 million downloads of Word, a million plus of Pages and hundreds of thousands of downloads of other text editors and word processing apps, it is clear that we want to write using our iPads and tablets. The ongoing problem is clearly the need for a better typing solution.
Voice input is much improved, but not at all sufficient for editing a document. iOS 8 will allow iPad owners to finally enjoy the benefits of Swype and SwiftKey apps, and predictive input is great when it works. Autocorrect blunders can be embarrassing and spell trouble when you find yourself racing a deadline.
Nothing beats the feel of a real keyboard and the confidence that *precisely* what is typed will appear in the document. What the mobile workforce needs is a real keyboard, with all of the essential keys, that folds to become pocketable, then quickly unfolds to full size for that tactile, clickity, clackity satisfaction at a moment's notice.
That is exactly what LapWorks has delivered with their Amigo Folding Bluetooth Keyboard for iPads & Tablets. It features real, full-travel keys, with the familiar springiness and audible feedback we all know and love on our desktop and laptop keyboards. The full-size 69-key keyboard folds in three places to a compact 3.6" x 5" x 0.8" to easily fit in a pocket, purse or bag. Unfolded, the keyboard is standard size at 11" x 5" x 0.4".
Looking like something issued for agent 007 and just as cleverly engineered, there is a definite wow factor achieved for anyone watching as the innocuous looking case pops open with the push of a button and the locking tabs slide into place revealing this design marvel.
And while a full-size keyboard with tactile feedback is obviously essential for writers, the value to programmers may not be as well known. When writing in code many of the necessary symbols are an extra tap or two away when using the on-screen keyboard, leading to continually switching back and forth between the standard and symbol keyboards. The Amigo offers all of the symbols found on a standard keyboard in the familiar positions.
The Amigo Folding Keyboard connects to iPads, tablets and phones via Bluetooth so there is no need to bother with cables. Connect to a standard computer USB port for charging. A single charge will power the keyboard for 30-60 days depending on use. USB cable is included.
The LapWorks Amigo Folding Bluetooth Keyboard is now available. Retail price will be $149.95, but is currently available at the discounted price of $139.95 with free shipping. For more information visit the manufacturer's websites at http://www.laptopdesk.net and http://www.heldtite.com.