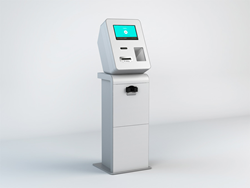 We want to create a platform for thousands of small businesses to compete against legacy financial institutions, and against each other. These are markets in dire need of fierce competition to bring down transfer and exchange fees. - Zach Harvey
Manchester, NH (PRWEB) July 03, 2014
Bitcoin ATM manufacturer, Lamassu, Inc., has released Rakía, their new backend that will reinvent the network of their Bitcoin ATMs. Operators of Lamassu machines will be independent nodes, instead of being reliant on a centralized service. They will have complete control over price setting, commissions and background trading, as well as potential integration with any relevant Bitcoin service or software. The software has been released as open source and is available on GitHub.
Paired with the recent debut of Lamassu's Santo Tirso cash dispensing module, current machines will be able to offer both cash to Bitcoin and Bitcoin to cash based services. One use case of the Rakía platform would be to have a two-way Lamassu machine in two international airport hubs. Another, remittance between developed and developing nations. A third: a bankless-ATM.
"It's important to note that we don't plan to be the next Western Union, Moneygram or Travelex," Harvey says. "We want to create a platform for thousands of small businesses to compete against these legacy financial institutions, and against each other. These are markets in dire need of fierce competition to bring down transfer and exchange fees."
With Rakía, developers working with operators or third-party services will be able to build tools that can drastically expand the functionality of the machines. Lamassu, who recently won the Blockchain Award for Best Bitcoin ATM Design, will continue to develop the backend as well. Lamassu's co-founder, Zach Harvey, says the company is creating competition in fields traditionally held by a few large corporations.
"This is an evolution of the Bitcoin ATM format. We've already spoken to several key Bitcoin businesses that are excited about integrating their services with our new Rakía platform." says Lamassu Co-founder Zach Harvey. "What this means for our operators is that their machines are about to graduate from Bitcoin ATMs to full-fledged Bitcoin portals, granting users effortless access to remittance, cash exchange, cash withdrawal and bill-payment services."
The new Lamassu software and upgraded hardware will be made available for demonstrations and hands-on use at the CoinSummit conference in London on July 10th-11th.
For press inquiries, please contact Kari DePhillips: kari(at)lamassu(dot)is