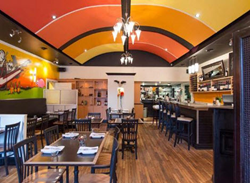 Our solid wood seats are about 30 percent thicker than the plywood seats our competition uses.
Whitbey, Ontario (PRWEB) July 03, 2014
The newest venture by Kevin Brown, KB Restaurant is a fresh, playful, and innovative translation of restaurant dining in Whitby.
Their goal is to provide customers with exceptional food and refreshment with value, and warm personable service, in a fun, dynamic, casual and engaging venue. The menu is a market driven, daily creation, evolved by the seasons, and showcasing the best in local, sustainable ingredients, complimented by superior spirits and a large selection of wine, many by the glass.
The menu includes a wide range of appetizers which include unique dishes such as roasted bone marrow, arancini, steak tartare and burbs bruschetta. Entrees include braised short ribs, angus top sirloin, venison, chicken tacos, handmade ravioli and more.
The owner contacted Restaurant Furniture Canada when he was shopping for new chairs because he heard of their reputation for high quality restaurant furniture and excellent customer service. He decided to go with Restaurant Furniture Canada's Elongated Vertical Back Chair with a black frame finish and solid wood seat in natural finish. The Elongated Vertical Back Chair currently available on Restaurant Furniture Canada for $44.
"The Elongated Vertical Back Chair was perfect for what the owner of KB Restaurant was looking for," Chris said. "It's comfortable and functional, with the long-lasting durability that metal gives you, but also has a modern and sleek appearance which was perfect for the contemporary, eclectic motif of his restaurant."
Restaurant Furniture Canada's Elongated Vertical Back Chair is also available in additional frame finishes and can be ordered with an American made padded seat in a variety of vinyl and fabric upholstery options. However, the solid wood seat which the owner of KB opted for on its Elongated Vertical Back Chair is a point of pride for Restaurant Furniture Canada.
"The quality of our wood seats is one of the things that sets us apart from other restaurant furniture suppliers," Chris stated. "Most companies use layers of plywood for their wood seats, which is less durable and lacks the authentic look of our real, solid wood seats. You can actually see the wood grain in our seats, whereas plywood has a flat appearance to it. Real wood absorbs wood stain deep into it, so you don't get the scratching and denting common in plywood. And, most importantly, our solid wood seats are about 30 percent thicker than plywood seats our competition uses. They're made to last in a commercial environment, unlike the plywood which starts to crack after a short time," he added.
To browse Restaurant Furniture Canada's full selection of chairs, barstools, table tops, table bases, booths and patio furniture visit http://www.restaurant-furniture.ca/ or talk to a customer service representative at (888) 998-4222 for answers to all your questions on restaurant furniture.
KB Restaurant is located at 120 Brock St. in Whitby, Ontario. They can be contacted at: (905) 430-0236.