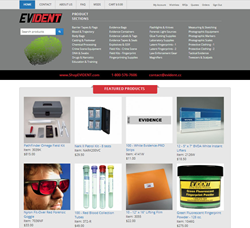 The new ShopEVIDENT website provides several advantages over the current features of our competitor's
Union Hall, VA (PRWEB) July 07, 2014
The new website, located at http://www.ShopEVIDENT.com, features an advanced shopping capability which allows government purchasing offices to submit a wide variety of requests and payment options.
Following an initial sign-up process, any government office may make submissions which include Requests for Quotation (RFQ), Contract Orders, Purchase Orders, Requisition Orders, Credit Card Orders, and Open Account Orders.
"The new ShopEVIDENT website provides several advantages over the current features of our competitor's websites," Michael J. Grimm, President of EVIDENT says, "including the ability for agencies to manage multiple purchasing activities, and plan for future purchase requirements."
The site is designed to mirror the requirements of government procurement, while allowing for flexibility with all sizes of agencies. As well as law enforcement agencies, EVIDENT also supplies military, educational, and medical facilities.
In addition to the new http://www.ShopEVIDENT.com website, EVIDENT also features a rapidly growing reseller program and international sales office.
EVIDENT was started in 1992 and features a diverse offering of Crime Scene Products, Forensic Laboratory Supplies, and Law Enforcement Equipment, with over 2,250 actively inventoried items.