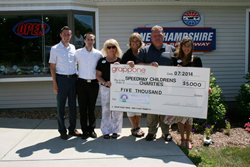 Bow, New Hampshire (PRWEB) July 15, 2014
The Grappone Automotive Group recently presented a $5,000 donation to Speedway Children's Charities as the first round winner in the annual Grappone Cares Contest on Wednesday July 10th. The Grappone Cares Contest is put on by the Grappone Automotive Group in an effort to build strong relationships within its community.
The Grappone Cares Contest is a Facebook Contest that enables non-profit organizations to be nominated, and voted upon, by the more than 33,000 Grappone Facebook Fans, for the chance to win $5,000 through the Toyota Match Program. The Toyota Dealer Match Program enables dealer contributions to make a greater impact on the community. Since 1991, Toyota has contributed nearly $800 million to non-profit organizations, and has always been guided by a strong belief in serving the communities where it does business. The Grappone Cares Contest consists of four rounds. In order to be as diverse as possible; this year Grappone has broken up the contest into three themes with the nominations centered around; Families and Children in Need, Animals in Need, and Environmentally Focused Organizations. Each round will host a different theme.
Speedway Children's Charities, the first round winner, is a non-profit organization that works to improve the lives of children. They provide funds for hundreds of non-profit organizations throughout the nation that meet the direct needs of children, no matter what obstacle the children are facing.
The Speedway Children's Charities, located in Loudon, New Hampshire, puts on many events in which all of the proceeds go directly to helping children in need. Two of the events they put on include: Laps For Charity, where participants can drive their own car around the famous 'Magic Mile' track in Loudon for a donation and, The Ride of a Lifetime Auction. The annual July NASCAR Sprint Cup race in Loudon, includes an auction where anyone can enter to take a ride around the race track with their favorite NASCAR driver.
Grappone Automotive Group is a family-owned business since 1924, located in Bow, New Hampshire. Their flagship Toyota store recently received its 20th president's award. Part of Grappone's five-year vision is to increase its philanthropic giving and volunteer efforts. "We are grateful to have such a great partner in Toyota, who also recognizes the value in giving back to the community," said Amanda Grappone Osmer, 4th generation owner.