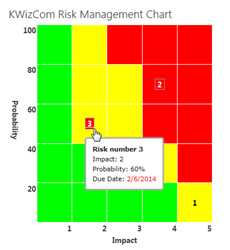 The Risk Management Chart is the 1st add-on from several more to come that support EPM methodologies such as CMMI
Toronto, ON (PRWEB) July 03, 2014
KWizCom, a leading developer of SharePoint Forms and Mobile Solution as well as multiple other cutting-edge web parts and add-ons designed to expand Microsoft SharePoint, announced the release of Risk Management Chart web part. This top-notch web part visually displays the project risks on a probability-impact matrix, based on the PMBOK risk management methodology.
Customers will be relieved to find out that the Risk Management Chart web part includes a "Risk Management" list template that the clients can use to manage their project risks and risk mitigation plans, or can connect to their custom risks lists. This turn-key web part assists clients in effortlessly resolving the below-mentioned tasks:

Improve the visibility of the project risks in the project workspace
Offer an immediate display for the executive to understand the project's risks and their probability and impact
Helps in easily identifying the risks that need to be mitigated
"The Risk Management Chart is the 1st add-on from several more to come that support EPM methodologies such as CMMI," advises Nimrod Geva, the Product Group Manager of KWizCom. "We clearly see SharePoint becoming a very important part in Enterprise Project Management process and we will continue our investment to support the relevant customers."
KWizCom's Risk Management Chart web part offers a wealth of key features and benefits:

Enables users to get a quick review on project risks
Fits with the risk management concept and methodology
Clients can record and manage their risk properties as well as their risk mitigation plans
Configurable on-screen notifications
Customizable risk chart scales
Customizable colors
Multi-lingual
If you would like to find out first-hand what the software it like, KWizCom offers a no-cost 30 day trial of Risk Management Chart web part.
Follow KWizCom on Twitter https://www.twitter.com/KWizCom
Become a fan of KWizCom on Facebook: https://www.facebook.com/KWizCom
Join KWizCom on LinkedIn: http://www.linkedin.com/company/KWizCom
Contact a KWizCom Account Specialist at +1-905-370-0333/+1-855-KWIZCOM or info(at)kwizcom(dot)com
About KWizCom Corporation
Since 2005, KWizCom has provided innovative solutions and services to make SharePoint even better for over 5,000 companies worldwide. KWizCom's solutions and services expand Microsoft SharePoint out-of-the-box capabilities, streamline workflow, maximize efficiency and enhance over-all productivity for hundreds of thousands of users. KWizCom, a Gold Certified Microsoft Partner, is headquartered in Toronto, Canada. Please visit http://www.kwizcom.com to find out more about KWizCom's clients, people, partners and solutions.