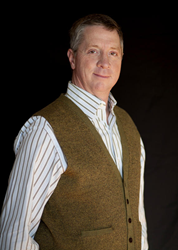 Columbus, MS (PRWEB) July 03, 2014
Patients can now visit Dr. John Starr of Golden Triangle Periodontal Center for All-on-4™ dental implants. This dental implant procedure allows Dr. Starr to place just four implants where the jaw bone density is strongest, increasing support and offering patients a less invasive replacement for multiple missing teeth.
The use of dental implants provides many benefits for patients. Anchored dentures are more secure than regular dentures, and this helps patients feel confident, eat a normal variety of foods, and talk without difficulty. Permanent tooth replacement options stimulate the jaw bone, which prevents it from disintegrating and shrinking. People who use traditional dentures can see dramatic changes in their jaw bone shape and size in just a few years as disintegration occurs. Eventually, the dentures will not fit correctly, or the remaining jaw bone will not adequately support the dentures. The All-on-4™ dental implant procedure offers a permanent solution that is more economical than individual implants.
All-on-4™ dentures get their name because as few as four dental implants can anchor the entire prosthesis. There is not a set position that Dr. Starr must place the implants in; they can be positioned wherever a patient has the best bone density. This is especially beneficial for patients who have low bone density and might require a bone graft to be eligible for other prosthetics.
There are two main steps to the All-on-4™ dental implant procedure. During the first treatment session, Dr. Starr gives the patient anesthesia, places the implants, and attaches either the denture that the patient currently uses or a temporary denture. This is worn for three or four months while the implants fuse with the bone. Then, the patient returns so that Dr. Starr can attach the permanent denture to the implants.
People who have lost all of their teeth will immediately start losing bone density, so it is important that they do not put off looking into permanent tooth replacement options. Patients who are interested in All-on-4™ implants should call Dr. Starr's office to learn more about the benefits of All-on-4™ dental implants.
About the Practice
Golden Triangle Periodontal Center is a periodontal practice offering personalized dental care to patients in Starkville and Columbus, MS. Dr. John W. Starr received his B.S. in chemistry from Mississippi State University and then attended the University Of Mississippi Dental School. He specialized in periodontics at the University of Alabama in Birmingham. Dr. Starr is part of one percent of dental professionals providing the LANAP FDA cleared laser procedure for gum disease and periodontal treatment. To learn more about Golden Triangle Periodontal Center and the dental services visit their website at http://www.jwstarrdmd.com/ and call (662) 798-4103.