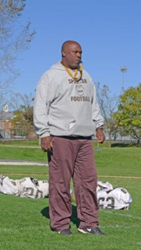 Hershey, PA (PRWEB) July 05, 2014
Roger Smith, a 1985 graduate of Milton Hershey School® (MHS), received word this week that he will be inducted into the Millersville University (MU) Athletic Hall of Fame in October for his outstanding performance on the Millersville Marauder football team.
"The coaches and houseparents at Milton Hershey School focus on team success, not individual notoriety," said Smith. "This philosophy was with me at Millersville and continues in my life today. It is one of the many reasons I am committed to this school and its students. I am so grateful that the programs at MHS and MU helped to shape me into the father, husband and person I am today."
The university will recognize Smith, a 1989 graduate from its Industrial Education program, for his storied football career during championship seasons at MU. He was a three-time All Pennsylvania State Athletic Conference (PSAC) East tight end during the 1987 and 1988 seasons when his team won back-to-back PSAC East crowns. He also received the honor in 1989. In 1987, the team chose him as their offensive MVP. He graduated with school records for career receptions and receptions in a season, and he was the first Marauder to reach 40 catches and 600 yards in consecutive seasons.
"As a classmate and a colleague, I know firsthand what an incredibly talented athlete and inspirational coach Roger is," said Pete Gurt '85, MHS president-elect. "His enthusiasm and dedication to our students shine through in everything he does. The Milton Hershey School family extends its sincere congratulations to Roger on this impressive honor."
Smith resides in Susquehanna Township with his wife, Crystal, and their three children. He serves as a Senior Division Student Program Team Leader at MHS, as well as the head junior varsity football coach, assistant varsity football coach, and head track and field coach. Originally from Brooklyn, NY, he attended MHS during his high school years.
About Milton Hershey School
Milton Hershey School® offers a top-notch education, state-of-the art facilities, advanced technology and a wide array of activities to children in pre-kindergarten through 12th grade from families of low income. This cost-free, private, coeducational school in Hershey, PA is funded by a trust established by Milton and Catherine Hershey. The school provides a positive, structured home life year-round and an excellent education, focusing on the whole child. Our vision centers on high-quality academics, college preparation, career readiness and providing children with the skills necessary to be successful in all aspects of life. Learn more at http://www.mhskids.org.