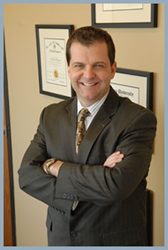 Hinsdale, IL (PRWEB) July 03, 2014
Paul Denemark, DDS announces the availability of the LANAP® procedure to patients who need the services of a periodontist near Hinsdale, IL. This FDA cleared laser protocol is a minimally invasive alternative to traditional gum disease treatments and targets diseased tissue and harmful bacteria while leaving healthy gum tissue intact.
As many as half of all adult Americans experience some fear of dental visits. When issues such as gum disease are discovered, even those who are normally calm about oral care may become uncomfortable. The fields of dentistry and periodontics have developed many new procedures in order to allay these fears and make patients comfortable. One of these procedures, the LANAP® protocol, is particularly effective at reducing the trauma and pain of gum surgery.
Many periodontists treat advanced gum disease by cutting the gums to pull them away from the teeth, exposing bacteria and infection so it can be cleared away. The gums are then stitched back into place. Traditional gum disease treatments may take weeks to completely heal, and once healed, the patient often experiences receding gums. When gums reattach at a recessed position on the teeth, the root surfaces are exposed to the oral environment.
Dr. Denemark offers patients seeking a periodontist near Hinsdale, IL a new way to treat gum disease that does not involve incising or suturing. The LANAP® treatment is performed with the PerioLase® MVP-7™ laser, which targets bacteria below the gum line without the need for a scalpel. The laser attacks only bacteria and cauterizes the gums as it cleans, so surrounding tissues are not damaged further, bleeding is minimal, and the healing process takes days instead of weeks.
Not all dentists and periodontists near Hinsdale, IL are qualified to perform this procedure. Dr. Denemark is able to offer the LANAP® protocol, and he has extended his patient base to include local residents who have gum disease but are not willing to experience the trauma of traditional scalpel surgery. For more information about laser gum disease treatments, visit Dr. Denemark's website or call his office today.
About the Doctor
Denemark Periodontal Specialists is a periodontal practice providing personalized dental care for patients in Burr Ridge, IL. Dr. Paul Denemark received his Doctorate of Dental Surgery from the University of Illinois, College of Dentistry. He was a general dentist for six years prior to returning to school at Indiana University School of Dentistry to earn his Master of Science in Dentistry degree and research qualified certificate in Periodontics. Because of his expertise in dental anatomy, he was appointed as a Deputy Coroner for DuPage County, Illinois. He previously held the position of Clinical Periodontics instructor at the University of Illinois at Chicago, College of Dentistry. Dr. Denemark belongs to the one percent of dental professionals currently providing the Laser Assisted New Attachment Procedure (LANAP®), the first FDA-cleared laser procedure for gum disease and periodontal treatment. To learn more about the dental services available at Denemark Periodontal Specialists, please visit http://www.drdenemark.com or call (630) 297-4999.