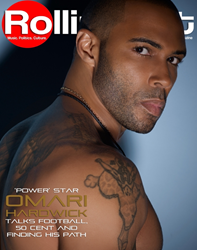 It's been amazing to watch and learn from him.
Atlanta, GA (PRWEB) July 03, 2014
One wouldn't necessarily expect a highly-touted high school athlete to aspire to become a poet; and one likely wouldn't expect an established poet to pursue a career in acting; but Omari Hardwick has spent the majority of his life defying expectations. The Atlanta-born actor heads an acclaimed cast of talented actors on "Power," the new crime drama series from Starz. Having appeared in films such as Spike Lee's 'Miracle at St. Anna' and on series such as "Being Mary Jane," playing the conflicted James "Ghost" St. Patrick presented an interesting opportunity for Hardwick.
Ghost's struggle to rise above the trappings of organized crime serves as the crux of the character's moral conflict; and Hardwick was convinced to take the role after a lengthy conversation with the show's creator, Courtney Kemp Agboh.
"I didn't necessarily need work — in terms of a 'desperate' actor needing work," he tells rolling out. "I wanted it to be work that made sense to me and my career. But TV exec Courtney Kemp Agboh said her mantra was 'OK, God.' And she said she lived by this mantra for years that aided her in accepting what her call was.
Agboh's mantra resonated with Hardwick, and he was inspired to accept the role. Shortly thereafter, he got a phone call from another major figure involved with "Power", executive producer 50 Cent.
"It's been amazing to watch and learn from him. Maybe he can say he's learned from me, too. I'm humbled if he can say that."
Visit rollingout.com to read the interview in its entirety. Be sure to check out the exclusive photo shoot and video footage with photographer Keith Major.
About rolling out Magazine:
Rolling out, the nation's largest free urban weekly, is a digital and print magazine that focuses on the black experience in response to entertainment, politics, fashion, culture, sports and lifestyle points of interest. Headquartered in Atlanta, rolling out is positioned as the voice for the African American experience, using its newspaper as a platform in the marketplace to express urgency for education reform, and to document entrepreneurial endeavors and other relevant issues in the Diaspora. For information on rolling out, please log on to rollingout.com.