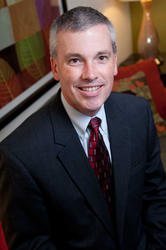 Mike brings a firm commitment to not-for-profit organizations working together to expand the possibilities for aging in Maryland.-LeadingAge President & CEO Jill Schumann
Rockville, MD (PRWEB) July 03, 2014
National Lutheran Communities & Services' (NLCS) Chief Financial Officer Michael Brady was selected to join LeadingAge Maryland's Board of Directors on January 23. Brady will serve a three-year term as the exclusive financial expert among the directors for the charitable organization.
LeadingAge Maryland was established in April 2012 as a community of not-for-profit aging services providers working together to shape the future of aging in the state of Maryland. The association represents a strong and undiluted voice that effects change and advocacy in policy, education and public arenas. Due to its new establishment, the Board's primary focus will be to support and help govern senior leadership as they work towards continued growth and greater advocacy.
"We are pleased to welcome Michael Brady to the Board of Directors. Mike brings a firm commitment to not-for-profit organizations working together to expand the possibilities for aging in Maryland," LeadingAge Maryland President and CEO Jill Schumann said. "His knowledge of financial issues will be of particular value to both the Board and LeadingAge Maryland members."
Brady noted that being in the Washington D.C. area provides opportunities for national advocacy.
"The LeadingAge Board is seeking to build relationships and expand the educational element across all departments in aging services," Brady said. "As part of NLCS' leadership team, one of the organizational goals is to be a role model within the industry. I look forward to sharing my knowledge and helping mold LeadingAge Maryland where I can."
About National Lutheran Communities & Services (NLCS)
Based in Rockville, Md., NLCS is a not-for-profit, faith-based ministry of the Evangelical Lutheran Church in America's (ELCA) Delaware-Maryland, Metropolitan Washington, D.C. and Virginia Synods, serving people of all beliefs. NLCS provides seniors with a variety of lifestyle, residential and health care options through retirement communities and services in Maryland and Virginia.
Other communities sponsored by NLCS include The Village at Rockville in Rockville, Md., a continuing care retirement community that offers independent living, rehabilitation, respite, assisted living, extended nursing care, hospice and coming soon, memory support; The Legacy at North Augusta in Staunton, Va., an independent living rental community offering assisted living services; The Village at Crystal Spring in Annapolis, Md., a new continuing care retirement community – subject to Maryland Department of Aging approval – which will serve as the centerpiece of a multi-generational residential and mixed-use project; and The Village at Orchard Ridge in Winchester, Va., a new continuing care retirement community that opened in Feb. 2013. For more information about any of our communities, visit http://www.nationallutheran.org
About LeadingAge Maryland
LeadingAge Maryland is a community of not-for-profit aging services organizations serving residents and clients through continuing care retirement communities, senior housing, assisted living, nursing homes and home and community based services. The association represents a strong and undiluted voice for not-for-profits in policy, education and public arenas. For more information, visit http://www.leadingagemaryland.org