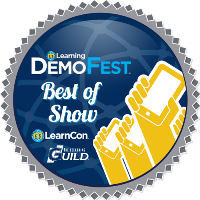 Working with a team so dedicated to producing the best training strategies and willing to embrace cutting edge technologies to provide outstanding results has been a true pleasure.
Savannah, GA (PRWEB) July 07, 2014
OnPoint Digital, Inc., a leading provider of online and mobile learning solutions, is pleased to announce its 'Best in Show' win at the e-Learning Guild's DemoFest, part of the mLearnCon Conference in San Diego, California. The winning entry, submitted jointly with OnPoint customer AutoTrader.com, a business of Cox Automotive, and titled "It Really Is All Fun and Games—Sales Training Goes Mobile at AutoTrader," was presented to attendees by Cox Automotive's Senior Manager of Learning Technologies, Cory Colton, and OnPoint's President, Robert Gadd, during the two-hour event, Wednesday, June 25th, 2014.
DemoFest is a "people's choice" style competition where participants vote for the courses or applications they consider the most innovative solutions or approaches to various e-Learning challenges. Participants see a wide variety of demonstrations and have a chance to talk to the designers and developers about the tools, technologies, and processes they used to meet their project's goals and objectives.
The winning entry detailed how the AutoTrader.com Sales Training department used OnPoint's CellCast platform to design an innovative training strategy supporting their Fall Product release delivered to approximately 800 salespeople. The strategy employed a combination of core mobile content, performance support videos and documents, scenario-based learning, and manager coaching and support. A completely redesigned custom mobile interface made use of OnPoint's sophisticated gamification functionality to allow users to compete, earn points and badges, and view leader boards. In addition, users captured and submitted videos to their managers via the mobile app to demonstrate acquisition of key skills. Managers were then able to approve or reject those submissions through the CellCast app and also view dashboard results and run key reports for their direct reports. AutoTrader reported that more than 95% of users completed the core content at a savings of over $1M in direct training expenses and saving more than 24,000 hours of time away from the field.
"We're honored to be recognized with AutoTrader.com for this project," said Robert Gadd, OnPoint Digital's co-presenter at the DemoFest event. "Working with a team so dedicated to producing the best training strategies and willing to embrace cutting edge technologies to provide outstanding results has been a true pleasure."
About AutoTrader.com:
AutoTrader.com, launched in 1998 and headquartered in Atlanta, GA, is the Internet's leading auto classifieds marketplace and consumer information website. AutoTrader.com aggregates in a single location millions of new, used, and certified pre-owned vehicles listed for sale from thousands of auto dealers and private sellers. The site attracts more than 15 million unique monthly visitors – in-market car buyers who are searching inventory, looking for specials, and ready to buy.
Through innovative merchandising products such as multiple photos and comprehensive search functionality, AutoTrader.com unites buyer and seller online, dramatically improving the way people research, locate, and advertise vehicles. AutoTrader.com is a business unit of Cox Automotive and a wholly-owned subsidiary of Cox Enterprises.
About OnPoint Digital, Inc.:
OnPoint Digital, Inc. is a leading learning solutions provider dedicated to the development of powerful yet affordably-priced online and mobile learning tools for the enterprise.
OnPoint's CellCast Solution for mobile learning enables organizations to create, deliver, and track content deployed to smartphones and tablet devices. Learners use device-specific CellCast Apps to download content (HTML, Video, Audio, PPT, ePub, etc.), including tests/surveys with fully-tracked completion detail and test results. Available Apps span all the popular device platforms: iPhone®, iPad®, Android®, Windows Phone®, and BlackBerry®. Advanced features include messaging, search, social media, learning paths, user-generated content, gamification, and security.
OnPoint also offers a full-featured Learning Management System software suite for the creation and management of rich-media courseware, assessments, skill tracking, and reporting, with numerous options including document management, e-commerce, localization, Single Sign-on, and gamification modules.
_________
Copyright (c) 2014 OnPoint Digital, Inc. All rights reserved.
Android is a registered trademark of Google Inc.
Apple, the Apple logo, Mac, Mac OS, Macintosh, iPod, and iPhone are trademarks of Apple.
The BlackBerry and RIM families of related marks, images, and symbols are the exclusive properties and trademarks of Research In Motion Limited.
Windows Phone is a registered trademark of Microsoft Corporation in the United States and/or other countries.
Other company and product names may be trademarks of their respective owners.