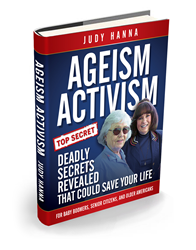 "Baby Boomers face the greatest Civil Rights struggles ever experienced in America"
Dallas, TX (PRWEB) July 03, 2014
AGEISM ACTIVISM: Deadly Secrets Revealed That Could Save Your Life, is a critical guide, an eyeopener that arms every baby boomer and senior citizen, over 100 million of them, with the essential facts to keep themselves safe from harm in America where one in three seniors is a victim.
There is fear among health care professionals and law enforcement that the un-investigated deaths of people over the age of 60 is a quiet epidemic of "gray homicides" going undetected and unpunished (NPR Investigation). What if your husband, wife, parents, or grandparents could have lived years longer? What if someone or something actually caused those deaths and no one knew or even suspected it? These are questions author and expert research analyst Judy Hanna explored to uncover that millions of Americans don't actually die of old age or natural causes, but at the hands of fellow Americans.
Hanna said, "The societal culture in America to openly engage in ageism, disrespect and discrimination against senior citizens because of their age is simmering to a boiling point toward a civil rights revolution." Over a span of twenty years in broadcast and print media, Hanna was approached often with chilling stories about senior citizens who were violated in hospitals, care facilities, independent living facilities, in their own homes, and by those in whom they placed trust.
Government agencies agree there is a pressing need for public awareness and prevention. Hanna's awareness and prevention strategies focus on the diverse types of crimes against baby boomers and senior citizens with critical information that will alert and warn about the dangers, recognition of signs, the civil rights that are violated, how justice can be served, and how to avoid being victimized.
Seniors will read about victims whose morning coffee, juice, IVs, or milk shakes served by nurses and caregivers were laced with dangerous drugs that hasten death. These poisonings happened secretly without patient consent or any medical diagnosis. The Criminal Justice System in some states has sent administrators, doctors, nurses, pharmacists, and aides to prison for the illegal act of using drugs to control and silence senior citizens. In one case, the charge was referred to as, "assault with a deadly weapon – the weapon: Risperdal."
In the course of her research, Hanna discovered a horrific pattern across America where one in four senior citizens is scammed, murdered, beaten, overmedicated verbally, physically, mentally, financially, and, sexually abused. The mistreatment of Senior Citizens in America is a crisis that cannot be overlooked. The violations are occurring in every community in the nation, and, not on a small scale. "It's no wonder," Hanna said, "that some seniors believe they would be treated better if they could go to prison where they would be guaranteed three square meals a day, medical attention, access to a gym, library, internet, and 24-hour security."
Ageism Activism is available in paperback, Kindle, and Nook at Amazon, Barnes and Noble, and all major booksellers.
http://www.seniorsstandingstrong.com
"Dr. Kitty Bickford"
kbickford(at)centurylink(dot)net
chalfant-eckert-publishing.com
1028 S. Bishop Avenue, Dept. 178
Rolla, Mo. 65401