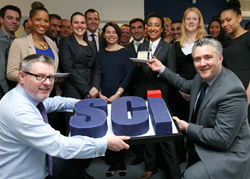 "The management team agreed the market was moving towards H2H contact and that we needed to protect and reward our most valuable asset. Our staff."Brendan O'Flaherty, CEO at SCi Sales Group
London, England (PRWEB UK) 8 July 2014
The initiative is recognition that B2B marketing is actually human-to-human (H2H), and that good staff play a vital role in human interaction – an integral part of any telemarketing organisation.
Brendan O'Flaherty, CEO at SCi Sales Group, explained, "The management team agreed the market was moving towards H2H contact and that we needed to protect and reward our most valuable asset. Our staff."
Graham Smith, Marketing Director at SCi, echoed this view, "The rise of digital and social media has changed the landscape, but meetings and negotiations are still done human to human. You will never sell a £60,000 product with just an email and a tweet."
This renewed emphasis on the importance of human interaction in B2B sales is supported by research conducted by SCi. It showed that 69% of B2B sales have some form of human interaction, either a phone call or a face-to-face meeting.
To fully calculate the benefits of the share scheme the company will be monitoring its impact on 5 key areas; staff retention, sales drive, policy engagement, new initiatives and recruitment.
Staff retention is a universal challenge in telemarketing and contact centres. Recent figures from XpertHR show that staff churn in the average UK company is 14%, yet figures for contact centres are estimated to be between 25-60%.
By making their staff shareholders SCi are hoping to strengthen the bond between staff and the company they own - that should further reduce the churn rate. The link is fairly obvious.
It's also anticipated that becoming shareholders will give staff an extra boost to meet targets that obviously drives profitability - and adds to the shareholder dividend at the end of the year.
Sue Arney is a recent recruit and has been with the company for a year, working as an Inside Sales Executive. She believes the scheme is working. "Being shareholders means we all pull together to add to the dividend at the end of the year. There is definitely a healthy work atmosphere here. We all own the company."
Some campaigns can be challenging, but there is evidence the shareholder scheme is working to drive long-term good behaviours that removes the focus from short-term 'campaign' goals.
Russell Leader has been with SCi for 3 years and feels the dividend is an extra motivation. "Like all good sales people I'm motivated by targets and commission. Being a shareholder means I have a long-term target to hit beyond the current campaign, and a bonus I want to share in every year."
Another area the company hopes will be improved is policy engagement - all those little things outside of selling where it's sometimes difficult to get staff connection. By linking policies to the dividend the company hopes to improve policy engagement. So turning off the lights as part of the environment policy reduces energy bills, and results in a bigger dividend for all.
The company is also keen to see increased involvement by staff in the creation of new policies and initiatives. Brendan wants to see greater input from staff, "As CEO, most initiatives have come from me in the past. But I don't have as monopoly on good ideas. We have real talent at SCi, and now they own the company I'm sure they will not be shy about voicing their ideas."
The final area the company will monitor is recruitment. Offering new staff the opportunity to become a shareholder is expected to attract a higher calibre of both sales and management candidates. It's a big differentiator in a job market that can sometimes be a little monotone – every company offering similar basic salaries and commission plans.
The awarding of shares took place during 2014 with the first shares being issued on 2 March. It's early days for SCi and the EMI scheme, but it will be interesting to see if other telemarketing companies follow their lead. The rewards are clearly there for everyone at SCi to enjoy.
About SCi Sales Group Ltd
Established in 2002, SCi Sales Group began life as a B2B telemarketing agency and grew to become a leading sales acceleration specialist. The core of the company's service is still telemarketing, but it has added other offline/online marketing tools to its portfolio.
Clients range from enterprise multi-nationals to SMEs and start-up companies. SCi's marketing services extend beyond the UK and Ireland to include Europe, North America and Australasia.