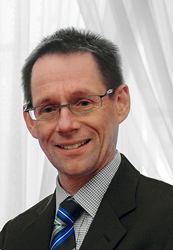 Dr. Martin Milton, Director of the BIPM
Boulder, CO (PRWEB) July 07, 2014
The NCSL International Workshop & Symposium will be held from July 28-31, 2014 at the Walt Disney World Swan and Dolphin Hotel in Orlando Florida. The theme of this year's conference is "Measurement Science and the Environment."
The increasing demands for measurements to quantify the state of the environment and the environmental performance of new technologies pose interesting challenges for measurement science. Such measurements are typically required at lower levels, over longer timescales and covering wider areas than are generally required in other fields of measurement science.
When applying measurement science to the environment, the basic principles are the same as in other fields. In order for environmental data to be traceable to the SI, it must be stable over time, so long-term trends can be evaluated; be comparable, so data acquired by different laboratories can be compared consistently; and be coherent, so measurements made against different references and using different methods will be equivalent.
The nature of the challenges in applying measurement science to the environment also dictates engagement with new stakeholder communities. These include laboratories that have monitored the atmosphere and oceans very successfully for decades. In many cases, these laboratories have developed their own methods of producing stable and comparable measurements, although their measurements are generally not truly coherent. The increasing requirement for environmental data and monitoring brings the opportunity to demonstrate that measurements traceable to the SI can be developed, and that our new environmental goals may be met in a cost-effective and robust way.
NCSLI welcomes Dr. Martin Milton as our Keynote Speaker. Dr. Milton has been the Director of the International Bureau of Weights and Measures (BIPM) since 2013. At the BIPM, Dr. Milton is responsible for an annual budget of Euro13m and a staff of 75. He has taken over the bureau's leadership at an important point in its 137-year history – over the next few years, scientists at the BIPM and the national standards laboratories of its 55 member countries will be working to redefine four of the SI base units in terms of fundamental constants.
Before taking over as BIPM Director, Dr. Milton had a long career at the United Kingdom's National Physical Laboratory (NPL), where he began in 1981, shortly after he earned a BA in physics from the University of Oxford. Over the next 31 years, he earned both a PhD (from the University of Southampton) and an MBA (from London Business School) and rose to become an NPL Fellow. He led NPL's work in gas metrology and also conducted research into Isotope Dilution Mass Spectrometry and Raman Spectroscopy. He was one of the founding members of the Consultative Committee for Amount of Substance (CCQM) and published early work on the nature of primary methods in chemistry. He has always had a special interest in the applications of standard gas measurements to environmental measurements, and was involved in the assessment of global emissions of methane for the Inter-governmental Panel on Climate Change (IPCC). In 2013 he was awarded an honorary professorship in chemistry by the University of York.