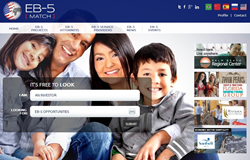 EB-5 Investors are invited to browse EB5match.com for free.
(PRWEB) July 08, 2014
EB5match.com will be a sponsor and exhibitor and at the EB5Investors.com third annual Southern California EB-5 Conference at Balboa Bay Club & Resort in Newport Beach, California on July 21, 2014. Fred Burgess and Renata Castro will be available to meet with attendees and discuss how EB5match.com can help improve their EB-5 efforts.
EB5match.com fills a void in the EB-5 industry allowing EB-5 candidates to explore different EB-5 options without the interference of 3rd parties."Last year's passage of the JOBS act (Jump-start Our Business Start-ups) made it possible to promote EB-5 opportunities to candidates all over the world and increase prospective EB-5 markets for Immigration Attorneys, EB-5 Projects and Regional Centers alike" said founder Fred Burgess.
EB-5 investors are invited to browse EB5match.com for Free. And because the site will be translated and search engine optimized throughout the world, projects and professionals will finally be able to get in front of EB-5 candidates who up until now were nearly impossible to reach.
Schedule a meeting to learn how EB5match.com can put your project, practice, or service in front of EB-5 candidates all over the world. Contact Renata Castro at renata(at)EB5match(dot)com or at 1-888-479-2800. Appointments are available Sunday July 20th – the day before the conference.
About EB5match.com: EB5match.com is a web portal that matches EB-5 Investors with EB-5 Projects, Attorneys, and Professionals. EB-5 candidates may search free of charge for EB-5 projects and professionals from EB5match.com's comprehensive list of opportunities. EB5match.com is translated and localized as well as Search Engine Optimized in numerous countries and languages around the world.