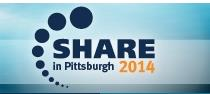 'The problem of technical debt is more commonly associated with legacy applications,' noted Rhodes. 'However, even recently written code can be infested.'
Austin, TX (PRWEB) July 09, 2014
Technical debt has been around as long as developers have been writing code but until recently, the cost of failing to remediate the problem has gone unrecognized. Positive responses to a general presentation on technical debt at the Anaheim SHARE caused SHARE organizers to request that CM First return and delve deeper into the subject. In particular, attendees were struck by the idea that bad code could lead to business-impacting performance and security problems.
CTO John Rhodes will be presenting "Technical Debt - The Cost in Performance and Security," on Wednesday, August 6. https://share.confex.com/share/123/webprogram/Session15955.html. "The problem of technical debt is more commonly associated with legacy applications," noted Rhodes. "However, even recently written code can be infested. Don't assume that there isn't a problem until an assessment has been made."
Though technical debt is often the cost of getting functionality to market quickly, the costs need to be understood. CM First has been a leader in promoting the importance of addressing this concern and providing remediation tools to companies around the world. For more information about the subject, check out the white paper CM First has produced. http://www.cmfirstgroup.com/resources/technical-debt-what-is-it-costing-your-company/ Learn more about remediation at: http://www.cmfirstgroup.com/initiatives/application-modernization/, and read the Solution Brief at: http://www.cmfirstgroup.com/wp-content/uploads/2014/05/AppMod_SolutionBrief.pdf.
SHARE has been in existence for over five decades providing high-quality education and resources in the realm of enterprise computing. Many of the Fortune 500 are represented at the conference, as well as government and university IT experts. CM First employees enjoy the opportunity to meet customers, share best practices and identify the issues challenging attendees.
Registration for SHARE is required in order to attend this session. http://www.share.org/p/cm/ld/fid=436. However, for those unable to attend, CM First may offer a webcast or podcast on the subject, delving deeper into the specifics of the CM First methodology. Interested management or technical experts can contact CM First to learn more at info(at)cmfirstgroup(dot)com.
About CM First
CM First is a global software and services company with focus on application modernization, custom development of enterprise applications that support high-performing, and agile development teams in three key areas: Application Modernization for IBM Environments, Custom Application Development Architected and Agile, Tools and Technology for Future Development.