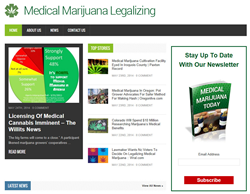 To date 22 states throughout the country have legalized the use of medical marijuana as of date. The District of Columbia has also allowed for limited possession.
San Francisco, CA (PRWEB) July 06, 2014
MedicalMarijuanaLegalizing.com has recently launched. The websites reports on all information that has to do with the legalization of medical marijuana in the United States.
In the U.S., prohibition for weed, pot, cannabis, and marijuana has ended in several states, thus bringing about a new era referred to as "The Green Rush".
To date 22 states throughout the country have legalized the use of medical marijuana as of date. The District of Columbia has also allowed for the possession of marijuana, provided that possession is in small amounts and that smoking the substance is only done within the four walls of an individual's home.
Last year, Colorado and Washington have allowed for the sale and taxation of marijuana, and have also legalized use of the substance for recreational purposes. At the moment, many other states are working on their own versions of marijuana-related legislation.
According to "Emerging Clinical Applications for Cannabis & Cannabinoids", an article published in January 2014 at NORML.org, studies conducted by the University of California Center for Medical Cannabis Research over the last decade showed that cannabinoids are consistently able to reduce the nerve pain experienced by patients of HIV/AIDS, cancer, diabetes, multiple sclerosis, spinal cord injuries, and other incapacitating conditions. These studies also indicated that cannabinoids were just as good or even better than medications available.
Without a doubt, the industry in North America is booming. MedicalMarijuanaLegalizing.com aims to provide extensive coverage on all interesting and important updates on this multi-billion dollar industry. The site will comb through the countless news sources being published on a daily basis, and release pertinent news, features, and opinions on the marijuana industry and culture.
MedicalMarijuanaLegalizing.com is committed to only publishing relevant quality information in order to provide convenience to all site visitors, and hopes to become a reliable and reputable resource online for medical marijuana entrepreneurs, and everyday consumers. The site will include information on industry news, trends developments, legislation, implications, medical research and more.
The group behind MedicalMarijuanaLegalizing.com also owns a portfolio of cannabis-related websites including http://www.medicalmarijuanasupplies.org (medical marijuana supplies & technology), http://www.medmarijuanaconsulting.com (cannabis consulting) & http://www.medicalmarijuanadelivery.biz (cannabis delivery).
If you are interested in becoming a contributing writer for MedicalMarijuanaLegalizing.com or any one of the websites, please contact editorial(at)greenrushreview(dot)com.