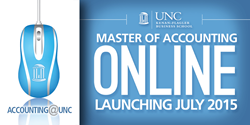 (PRWEB) July 07, 2014
The University of North Carolina Kenan-Flagler Business School plans to offer its top-ranked Master of Accounting (MAC) Program in an online format called [email protected]
"With a long tradition of excellence in accounting education and one of the very best accounting departments in the world, UNC Kenan-Flagler is uniquely positioned to offer the premier online MAC program," said Douglas A. Shackelford, dean of UNC Kenan-Flagler and the Meade H. Willis Distinguished Professor of Taxation.
"Demand for hiring our MAC graduates has never been stronger, with 98 percent having accepted employment offers by graduation," he said. "Historically, firms have wanted to hire more of our graduates, but space constraints prevented us from increasing the program's size. Technology now lets us increase access to a UNC education for even more talented people and meet the demand from companies who want to hire them."
Many college graduates might not think of earning a graduate degree in accounting, but the field offers diverse opportunities and a career path where human capital is the currency, according to Jana Raedy, associate dean of the MAC Program since 2011 and Ernst & Young Scholar in accounting. "Today, an accounting degree is more powerful than ever before. I can't think of a master's program that provides higher ROI for long-term success."
And it's not just for accounting or business majors.
"History and English majors, please apply. We value liberal arts education and it benefits our graduates' long-term career success as they move into positions of leadership," Raedy said.
"The top accounting firms and corporations value our graduates' intellectual horsepower, technical knowledge and skills in decision making, leadership, critical thinking and communication," she said. "It's a powerful combination that gets even stronger with time. We are training the future leaders of the accounting firms and the wider business world."
The 15-month online program will use the same admissions standards, curriculum, faculty and career management approach as the 12-month residential MAC program, said Amy Wittmayer, the new managing director of the MAC Program. "[email protected] includes a three-month internship; a required face-to-face immersion in Chapel Hill for orientation, leadership development and recruitment; and a second, optional immersion coinciding with the recruiting period when employers come to campus."
Wittmayer previously served as director of the MBA Career Management Center for the full-time MBA Program, where she worked with students, firms and alumni. She also worked as a finance and accounting professional in the corporate sector.
UNC started its MAC Program in 1985. Pending UNC General Administration approval, UNC Kenan-Flagler will launch [email protected] in July 2015.
[email protected] builds on UNC Kenan-Flagler's success in using technology to enhance learning and access in business education. The school launched its first online degree program, [email protected], in 2011 with 19 students and today 550 students are enrolled in the pioneer program.
As with [email protected], 2U, Inc. will serve as the technology partner for [email protected], providing its platform and support for students and faculty. 2U is a leading provider of cloud-based software-as-a-service solutions for leading nonprofit colleges and universities to deliver high-quality education to qualified students anywhere.
"As a Carolina accounting graduate, a CPA with several years of public accounting experience and a long-time UNC accounting professor, I am proud that 30 years later we are again leading the way and again using technology to increase access to a UNC education," said Shackelford.
#
About the University of North Carolina Kenan-Flagler Business School
Consistently ranked one of the world's best business schools, UNC Kenan-Flagler is known for its collaborative culture that stems from its core values: excellence, leadership, integrity, community and teamwork. Professors excel at both teaching and research, and demonstrate unparalleled dedication to students. Graduates are effective, principled leaders who have the technical and managerial skills to deliver results in the global business environment. UNC Kenan-Flagler offers a rich portfolio of programs and extraordinary, real-life learning experiences: Undergraduate Business (BSBA), full-time MBA, Executive MBA Programs (Evening, Weekend and global OneMBA®), online [email protected], UNC-Tsinghua Dual-Degree EMBA, Master of Accounting, PhD, Executive Development, and UNC Business Essentials programs. It is home to the Frank Hawkins Kenan Institute of Private Enterprise.