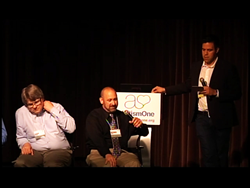 "With nearly 100 important lectures over the course of five days, I'm proud to say that the Absolute team accomplished this project without a single issue." - Mark Smith, creative director for Absolute Vision
Chicago, IL (PRWEB) July 05, 2014
Absolute Vision Productions, a Chicagoland-based media and production company, announced today the successful completion of live production for Autism One, the world's largest and most influential autism conference, at the Intercontinental Hotel in Rosemont, IL. Over the span of the week-long event, Absolute created over 100 individual video segments for next-day distribution, including comprehensive onsite editing and post-production. Companies interested in live conference and convention services are encouraged to contact Absolute directly for rates and availability.
In collaboration with Midwest Conference Service, Absolute Vision brought a top-tier media production team to handle Autism One's unique requirements. During the conference's busiest two days, Absolute had six separate cameras running simultaneously, each with independent outputs and onsite editing systems. Absolute's flexibility allowed Autism One to share cutting-edge research and lectures with their worldwide internet audience within hours, as opposed to weeks or months for DVD distribution.
For conference and convention venues, the importance of having a trusted audio/visual team who can handle the complex demands of video streaming and live streaming cannot be overstated. In addition to Absolute's immediate on-site conversion and editing services, their production team is equipped for a number live streaming formats, including web-standard streaming platforms such as Justin.tv and Ustream, as well as live switch editing for digital distribution.
"With nearly 100 important lectures over the course of five days, I'm proud to say that the Absolute team accomplished this project without a single issue." said Mark Smith, creative director for Absolute "At the end of the day, the client was extremely happy with the end product."
Absolute Vision remains the preferred media partner for dozens of regional and national companies. Whether creating top-tier production services for companies in the conference, convention, manufacturing, industrial, hospitality, and entertainment sectors, or drawing from a portfolio of work spanning dozens of industries and mediums, including animation, HD web content, product photography, and remote location production, Absolute is a trusted partner to Chicago's business community. For more information or to speak to a member of the Absolute team, email info(at)AbsoluteVisionProductions(dot)com.
About Absolute Vision Productions:
Absolute Vision Productions is a Chicago-based media and production company, and part of the Absolute Vision Media Inc. creative group. Whether for agency-style media, professional video production, local production crew, or general marketing and advertising, Absolute offers national-level experience with local connections and know-how for corporate, educational, commercial, and creative purposes. To learn more, visit http://www.AbsoluteVisionProductions.com.