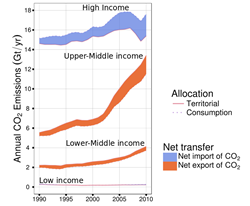 "Governments need to take ownership of important science-based findings for effective climate policies to be implemented," Professor Giovanni Baiocchi said.
College Park, Md. (PRWEB) July 03, 2014
While a significant body of widely accepted scientific evidence demonstrating human impact on climate change is mounting, political hurdles are preventing policymakers from accepting these findings, thus affecting meaningful mitigation actions, according to a new report in Science. A team of leading researchers including Giovanni Baiocchi, an associate professor in UMD's Department of Geographical Sciences, is reporting that information gaps between scientific consensus and what is deemed politically acceptable to present publicly are severely hindering discussions on environmental policy and best practices.
In April in Berlin, governments approved the third of three scientific reports comprising the fifth assessment report of the Intergovernmental Panel on Climate Change (IPCC). However, scientists were barred from presenting their complete findings.
"This report was designed to disseminate climate change mitigation options, but important information was removed from the summary for policymakers by government delegates for political reasons," Dr. Baiocchi said. "What happened again raises important questions on how complex scientific findings can be reported to politicians and to the general public."
The report from Working Group I showed with high degree of confidence that human activity is the main driver of climate change; Working Group II concluded that impacts of climate change are already evident and are poised to worsen; Working Group III (WGIII) investigated policy options designed to mitigate emissions responsible of human-induced global warming.
While the most important findings at the global level from the main technical report were accepted by the panel, heated negotiations among scientific authors and diplomats led to an unprecedented deletion of figures with accompanying text from the influential "Summary for Policymakers" (SPM). The deleted content focused largely on historical emission trends summarized by country groupings. As a result of the deletion, many scientists fear that access to critical information on emission drivers—and therefore links to concrete policy options that could mitigate climate change—has been compromised. These recommendations include necessary emissions-reducing steps that must be taken by traditionally industrialized nations and emerging economies that are most responsible for contributing to the problem, such as the United States and China.
The new report in Science was published to promote discussion of whether and how to reform the IPCC in advance of the 15th Meeting of the Conference of the Parties to the UN Framework Convention on Climate Change in November 2015. Science invited several WGIII members, including Dr. Baiocchi, to share their perspectives on what happened in Berlin and what it means for the IPCC and climate policy.
The report questions why and how critical information was deleted during the negotiations from the summary for policy makers of the WGIII report, and hope that these circumstances will not be repeated in future reporting efforts.
"The remit of the IPCC authors is to be present relevant policy options in a neutral manner, and the SPM is intended to balance governmental and scientific input, Dr. Baiocchi said.
The study's authors recognize the complicated political landscape, but stress that immediate and committed climate change reform is needed in order to mitigate this global problem.
"Governments need to take ownership of important science-based findings for effective climate policies to be implemented" Professor Baiocchi said. "High income countries, which still have the highest per-capita emissions, must do more to address the problem. Equally, fast growing middle income countries must be prepared to accept their share of responsibility as that they account for most of recent emissions growth. All major emitter groups need to do their part in cutting emissions to sustainable levels and not hide behind the anonymity of large heterogeneous groups provided by outdated, politically negotiated labels such as developing and developed, if the goal of climate stabilization is to be achieved."
The authors hope that by calling attention to the deletion of information and key policy recommendations, future dialogue on international climate change efforts will be more transparent, open, realistic, and free of political complications.
Media contact: Laura Ours, lours(at)umd(dot)edu, 301-405-5722