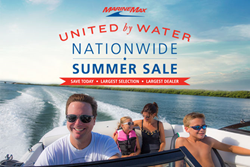 "Not only will our customers get the best prices of the year, but for sales made in July, MarineMax will be making a contribution to the Folds of Honor Foundation."
Clearwater, FL (PRWEB) July 03, 2014
MarineMax announced today the United by Water Nationwide Summer Sales Event, their largest boat sale of the year, will benefit the Folds of Honor Foundation and Patriot Boating Days.
"Traditionally, summer is our best selling season. This year MarineMax has a fantastic selection of more than 2400 new models and premium used boats available. Now, with the MarineMax United by Water Nationwide Summer Sale, this is the best time to own the boat you, and your family, have always dreamed of," commented Brett McGill, MarineMax Vice President West Operations. "Not only will our customers get the best prices of the year, but for sales made in July, MarineMax will be making a contribution to the Folds of Honor Foundation."
The Folds of Honor Foundation was established by Major Dan Rooney, a former F-16 pilot, to provide educational scholarships to the families of soldiers killed or disabled while serving our great nation. Marine businesses are encouraged to participate by raising money for Folds of Honor and Patriot Boating Days during the month of July. Sea Ray and MarineMax are proud supporters of the event, allowing boating enthusiasts to combine their love of country and assist the Folds of Honor mission.
MarineMax has over 50 stores nationwide that will be participating in the United by Water Nationwide Summer Sales Event. "The 2015 models are on their way, and our select boat brands, including iconic American builders Sea Ray and Boston Whaler, frequently offer special programs this time of year to make room for these new models," explained Chuck Cashman, MarineMax Vice President East Operations. "During the United by Water Summer Sales event, we are making additional MarineMax incentives available. Combine these with the acclaimed MarineMax customer experience, there has never been a better time to be a member of the MarineMax family."
MarineMax is well known for providing an exceptional total ownership experience. MarineMax owners enjoy a complete Delivery Owner's Orientation to familiarize owners and their families with their new boat, a full tank of fuel, Go Boating Gear Kit, and dock lines. MarineMax also organizes their famous Getaways!®, exclusive boat outings for MarineMax owners so they can experience the lifestyle with other boaters and use their boats in ways they may not have tried on their own. MarineMax offers a wide range of seminars for boaters of all levels of experience and needs.
"We are excited by the opportunity to participate in this great cause. Partnering with the Folds of Honor Foundation aligns perfectly with our company values," said Josie Tucci, MarineMax Vice President of Marketing. "MarineMax is all about uniting people with family and friends on the water. The United by Water Summer Sales Event is an opportunity to welcome new families and continue to serve our loyal MarineMax customers. We'll see you on the water!"
About MarineMax
Headquartered in Clearwater, Florida, MarineMax is the nation's largest recreational boat and yacht retailer. Focused on premium brands, such as Sea Ray, Boston Whaler, Meridian, Cabo, Hatteras, Azimut Yachts, Grady-White, Bayliner, Harris FloteBote, Crest, Scout, Sailfish, Scarab Jet Boats, Aquila, Ocean Alexander, Nautique and Malibu, MarineMax sells new and used recreational boats and related marine products and services as well as provides yacht brokerage and charter services. MarineMax currently has 55 retail locations in Alabama, Arizona, California, Connecticut, Florida, Georgia, Maryland, Massachusetts, Minnesota, Missouri, New Jersey, New York, North Carolina, Ohio, Oklahoma, Rhode Island, Tennessee, and Texas and operates MarineMax Vacations in Tortola, British Virgin Islands. MarineMax is a New York Stock Exchange-listed company. For more information, please visit http://www.marinemax.com.
Contact: Josie Tucci
MarineMax
Vice President of Marketing
727-531-1700 ext. 10062