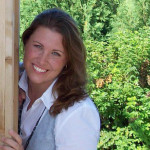 I'm is excited to begin building relationship with listeners on Family Life Radio
Tucson, AZ (PRWEB) July 04, 2014
Julia Taylor is the newest member of the Family Life Radio on air team. Listeners will begin hearing Julia on the air in the midday starting Monday, July 7. Her show will immediately follow Bill Ronning in the midday.
Taylor is a wife of a worship pastor and mother of four children, two (school age) girls and two (too young for school) boys. She loves the Lord, and brings excitement and passion to the airwaves.
Taylor comes to Family Life Radio with a wealth of broadcast experience. As an announcer she has worked for several stations including Life 101.9 KNWS, 98.1 KHAK, and 89.1 The Spirit.
Taylor said, "I'm excited to begin building relationship with listeners of Family Life Radio and continue to provide them with a safe, welcoming atmosphere where together we will share life together and challenge each other to grow in our walk with Christ."
About Family Life Radio:
Family Life Radio is a network of 38 Christian radio stations reaching more than 15 million people in its broadcast areas. Family Life Radio is a listener-supported ministry and has been on the air for more than 45 years. Family Life Radio provides music and programming with messages that uplift and encourage listeners in their walk with Jesus.