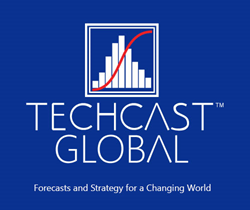 Washington, DC (PRWEB) July 07, 2014
TechCast Global is excited to announce it's newest additions to the Marketing Team: Dr. Flynn Bucy and Sarah Stevenson. Each with extensive backgrounds in consulting, marketing, and communications, Dr. Flynn Bucy earned his PhD from the George Washington University in Strategic Planning and Corporate Social Responsibility, and Sarah Stevenson graduated with a B.A. in Mass Communications from the University of Delaware.
Dr. Bucy is the Founder and President of New Leaf Global, Inc., a consulting firm in the DC area, and has been working in the international development field for over 21 years. Having worked in the private sector, development agency, and with NGO clients, Dr. Bucy will be a great contribution for future consulting for TechCast Global.
Sarah Stevenson has been involved in several managerial marketing positions over the last four years. She currently is the Marketing Manager at Sodexo, USA at the George Washington University. Her extensive knowledge of web marketing, social media, and press communications will be immensely valuable for TechCast Global.