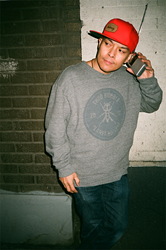 DJ QBert brings hip-hop music back to its true form; bangin' beats, dope rhymes and the illest skratching.
San Francisco, CA (PRWEB) July 07, 2014
With the rise of the DJ as the superstar of the entertainment world, from the super clubs of Las Vegas to massive radio hits to sell-out festivals and the Grammys, it's ironic how the DJ culture has actually steered further away from its roots - records and turntables. As hip-hop's last knight, DJ QBert (in his 30-year career), has remained true to the essence of the culture more than any other DJ in the industry. With 2 new albums, he is back to prove that although all you need is 2 turntables and a mixer. It requires exceptional talent to be a true superstar DJ and DJ QBert is the embodiment of such.
EXTRATERRESTRIA is DJ QBert's much-anticipated follow up to his groundbreaking debut album and feature film, Wave Twisters (1998). Extraterrestria is a collection of "alien-like" music featuring DJ QBert's signature scratching and new production. The album is accompanied by several well-known musicians that boosts the sonic soundscape. Featured artists include cellist and trombonist Dana Leong to to the eclectic instrumental exotica sounds of Tipsy. The album also features Craig Abaya, DJ Zeke, Coppe & DJ IQ. Extraterrestria transcends what turntablism is and what skratch music sounds like in the future.
If Extraterrestria is "alien" music, GLAXXXIAN is an imported album from Earth. It features DJ QBert's production and skratching with a host of talented MC's: Kool Keith, Del The Funkyhomosapien, Bambu, Soul Khan, Mr.Lif, El-P, Madchild, DZK, Roscoe Umali & Tassho Pearce. GlaXXXian album also features contributions from Yogafrog, Quazr, A-Trak, Malicious Lee, Genie Love & Camille Velasco. Like what the guitar solo is to rock music, skratching is the lost element of current hip-hop music. With GlaXXXian, DJ QBert brings hip-hop music back to its true form; bangin' beats, dope rhymes and the illest skratching.
Funded through Kickstarter, the project finished as the most successful project to date in the hip-hop category and Top 20 most funded in the Music category. With the unique partnerships of Algoriddim's DJay app and Novalia's capacitive touch technology collaboration, Thud Rumble was able to conceptualize and develop the WORLD'S FIRST INTERACTIVE ALBUM PACKAGING. With this innovation, the album's gatefold cover is transformed into an actual Bluetooth DJ controller. By accessing DJ QBert's album (or any MP3) through the DJay app, you're able to manipulate and effect the songs with the use of the built-in controller. This innovative feature will be available for the LIMITED EDITION vinyl and CD packaging that was pre-sold through Kickstarter.
The album has been garnering praises from fellow DJs and long-time fans while capturing a new and diverse audience. DJ QBert is set to embark on another promotional tour to European, Asia and US starting this Fall 2014.
Extraterrestria and GlaXXXian will be available on all digital music stores starting July 1, 2014 followed by the physical copies with capacitive touch technology early in the fall. With exclusive features from iTunes and Soundcloud, Extraterrestria and GlaXXXian will be the can't-miss independent release of the year.
Online resources
http://www.djqbert.com
http://www.facebook.com/skratchdjqbert
http://www.twitter.com/djqbert
http://www.instagram.com/djqbert
You can listen and purchase the albums at these following sites
iTunes - http://bit.ly/qbertitunes
Amazon - http://bit.ly/qbertamazon
Google Play - http://bit.ly/qbertgoogle
Soundcloud
https://soundcloud.com/djqbert/sets/extraterrestria
https://soundcloud.com/djqbert/sets/galaxxxian
ABOUT DJ QBERT
Richard Quitevis was born October 7, 1969, in San Francisco, California. Known by his stage name DJ Qbert or Grandmixer Qbert, is a Filipino-American Turntablist and composer. He is often referred to as the Jimi Hendrix of the turntables, known to make them sing in complex and unimaginable ways. He has invented the most scratching techniques and musical innovations than any DJ in history. QBert is credited for being the world ambassador of the DJ as a musician and turning the turntable into a respected musical instrument.
DJ QBert delivers on this discipline like no other DJ. Along with dear friend Roc Raida of the X-Ecutioners they are the only two DJs in history that have been Knighted by the Grand Masters of the Hip Hop culture. His peers and the media call him the Greatest DJ in the World, one of the most influential DJs of all time.
ABOUT THUD RUMBLE, LTD.
Thud Rumble LTD. is a diversified media management company committed to showcasing and expanding the world of the skratch DJ. Working with multi-talented artists in the music industry, Thud Rumble manages product conceptualization and design, feature film, event architecture, global product manufacturing & distribution, investment, international licensing, Internet properties, and artist management. By creating synergy in these areas, Thud Rumble has been able to enhance and effectively drive the DJ culture internationally. Thud Rumble noted by DJ TIMES was key in transforming the world of the Disc Jockey into a multibillion-dollar industry.