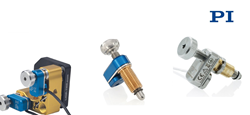 Auburn, MA (PRWEB) July 07, 2014
Precision Motion specialist Physik Instrumente (PI) has introduced two new, vacuum compatible versions of its miniaturized N-470 PiezoMike precision screw-type actuators for opto-mechanical adjustments.
Providing a positional resolution of 20 nanometers and travel ranges between ¼ inch and 1 inch, the new actuators are available in high vacuum (HV, 10-6 Torr) and ultra-high vacuum (UHV, 10-9 Torr) configurations.
Both can be computer-controlled to simplifiy the automated adjustment of lasers, mechanical and optomechanical components. The PiezoMike actuator can be integrated into conventional mirror mounts or positioning stages for precisely aligning the beam path of optical assemblies.
When at rest, the drive is self-locking, requires no electric power and generates no heat. The high holding force of >100N (22 lbs) and its self-clamping design make it vibration-proof and shock-resistant.
Controllers
Several OEM and bench top controllers for up to 4 channels are available. Versions with USB interface include host software and LabVIEW drivers.
More information on the opto-mechanical precision piezo micrometer actuator is available here: http://www.physikinstrumente.com/en/news/fullnews.php?newsid=182.
About PI
PI is a leading manufacturer of precision motion control equipment, piezo systems, piezo motors and actuators for semiconductor applications, photonics, bio-nano-technology and medical engineering. PI has been developing and manufacturing standard & custom precision products with piezoceramic and electromagnetic drives for 4 decades. The company has been ISO 9001 certified since 1994 and provides innovative, high-quality solutions for OEM and research. PI is present worldwide with ten subsidiaries, R&D / engineering on 3 continents and total staff of 750+.