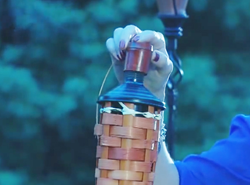 LINCOLN, R.I. (PRWEB) July 03, 2014
Tiki torches can help stop bugs from biting during the summer months, and they also provide ambient lighting for any backyard setting. However, as with any open flame, tiki torches can be dangerous.
That's why Amica Insurance is sharing these five tips from the U.S. Consumer Product Safety Commission to promote tiki torch safety:

Be sure to read any tags, stickers or labels on torches and fuel before use, and always follow the manufacturer's instructions.
Place torches away from areas of activity, and properly secure them so they won't fall or spill.
Never leave burning torches unattended.
Use caution when extinguishing the torches. Do not use water, as it could spread oil from the fuel and, as a result, the fire. Most torches have an attached topper to put out the flame.
Store torches and fuel safely away from children and pets, as well as other possible fire hazards.
The National Pesticide Information Center says that citronella oil, the most common ingredient in tiki torch fuel, is nontoxic and safe for extended use. By using good judgment and following these tips, you can enjoy your summer free from mosquitoes and other pests.
About Amica Insurance
Amica Mutual Insurance Co., the nation's oldest mutual insurer of automobiles, was founded in 1907. The company, based in Lincoln, Rhode Island, is a national writer of automobile, homeowners, marine and personal umbrella liability insurance. Life coverage is available through Amica Life Insurance Company, a wholly owned subsidiary. Amica employs more than 3,300 people in 40 offices across the country.
CONTACT: Vince Burks, Corporate Communications, 50 Amica Way, Lincoln, RI 02865-1155, 800-652-6422, ext. 24563
Twitter: Amica
Facebook: Amica Mutual Insurance Co.