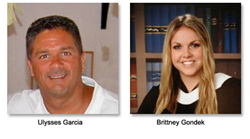 We are thrilled to have Ulysses and Brittney join our team of sales professionals.
Torrington, CT (PRWEB) July 08, 2014
O&G Industries Masonry Division is pleased to announce the recruitment of two sales professionals to join its team.
Ulysses Garcia has joined O&G's outside sales team where his expertise in strategic sales initiatives and relationship building will assist in expanding the commercial building sector the news was announced today by Craig Alvarez, Assistant Vice President. In his role as Sales Professional, Ulysses is responsible for developing new and strengthening existing relationships in architectural firms and securing specifications on masonry projects. He will work with building professionals in the bid process and manage awarded projects throughout every phase in the process. Ulysses has over 20 years of sales and management experience in growth positions within numerous industries including Cheeseborough Ponds Company, Smith Brothers Insurance, Balfour Inc., and The Lift Factor. His entrepreneurial spirit is evident with his company The Garcia Group, LLC and Connecticut Attack AAU Basketball. He shares his love of basketball with "at risk" youth, or as Ulysses refers "at promise" youth. Ulysses volunteers with a number of schools throughout the region. He earned his B.S. in Business Administration at the University of Hartford. "We are thrilled to have Ulysses join our team of sales professionals." Craig Alvarez stated.
Brittney Gondek joined O&G's team as Sales Professional for the interior showroom in Hartford's luxury Earth Product Showcase. Responsible for showroom sales and developing customer relationships she reports to Kara Oneglia, Assistant Vice President. Brittney brings her expertise in construction, design and customer service to the company. She has over five years of experience in the construction industry from her previous position with Gondek Construction. Her background also includes a decorator position with Katz Hardware in Glastonbury. "This market area requires the sales and design skills that Brittney possesses, we are happy to have her join our team," remarked Kara Oneglia. Brittney earned her B.A. in Graphic Design at Plymouth State University. She is a volunteer with the Big Brother/Big Sister program.
About O&G Industries Masonry Division
Since its inception in 1923, O&G has grown to become one of the largest and most diversified construction companies in the Northeast and one of the largest suppliers in New England of masonry products and services. Headquartered in Connecticut the company offers LEED© project solutions to achieve the highest masonry certification. O&G facilities include eight mason stores and nine stone-yards, six Earth Products Showcase showrooms, and its state-of-the-art fabrication and distribution center all strategically located throughout Connecticut. Customers receive expert consultation from showroom sales professionals while guided through the widest selection of natural stone and tile products of elegantly appointed vignettes from classic to contemporary in design. O&G's logistical coverage extends throughout the Northeast and beyond.
Navigate to O&G's website and social media pages where special offers, raffles, ideas, projects and the latest news are featured.