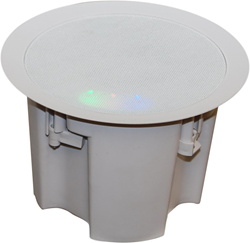 My dealers are very excited about this product. They no longer have to worry about installing external paging equipment for most jobsMatt Bellisario, Mid Atlantic Sales
Sarasota, Florida (PRWEB) July 07, 2014
IPitomy, a leader in VoIP unified communications platforms including premise based and virtual cloud based business solutions, announced today that it has released an innovative new SIP paging speaker with talkback capability. When combined with an IPitomy IP PBX System, the paging speakers come to life. IPitomy Systems have paging applications that enhance the value of the SIP paging speaker by delivering paging to hallways, break rooms and warehouse areas with only a single Ethernet cable.
Installations costs are greatly reduced. Auto-discovery and feature and programming is quickly accomplished through IPItomy's award-winning intuitive GUI interface. Powered by a POE, installation is much quicker than traditional speakers. The speaker has a built in microphone for talkback applications, and there is also an external microphone input for those areas with taller ceilings, allowing for a microphone to be installed in a convenient adjacent location. IPitomy SIP speakers have three adjustable-depth wing clamps on the back allowing the speaker to be easily installed into ceiling tiles, drywall ceilings or other recessed mounting areas. 13 Watts of power offers plenty of volume for spaces of any size.
Speakers can also be programmed into unlimited page groups for multiple customized paging zones. Multi-cast paging is also available for larger scale implementations.
Matthew Bellisario Mid-Atlantic sales adviser for IPitomy says, "My dealers are very excited about this product. They no longer have to worry about installing external paging equipment for most jobs, which makes installation and customization much more streamlined than older paging systems." While dealers have much to be happy about, so do the businesses that utilize the SIP speakers. Quicker implementation, customization as well as eliminating the need for external equipment results in lower cost of ownership than traditional paging systems.
IPitomy's leadership in the industry is evident in this latest product development.
About IPitomy Communications:
IPitomy Communications is a premier pure voice over IP PBX system that is meeting a market demand internationally for a feature-rich, price competitive Unified Communications Business System. IPitomy designs and manufactures a complete line of IP telephony equipment including IP PBX Systems, IP Telephones, Desktop Call Manager and Call Center Software. For more information visit http://IPitomy.com.
IPitomy Communications
941.306.2200
mattb(at)IPitomy(dot)com
Copyright IPitomy Communications, 2014 All Rights Reserved