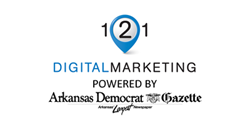 "Value is what causes people to want to trade with you. It's what makes them take out their wallet and hand you their money." - Seth Kahn, Association Transformation, http://associationtransformation.com/
Little Rock, AR (PRWEB) July 03, 2014
121 Digital Marketing is excited to announce their new affiliate program, which they have developed for associations in Arkansas. This program will benefit both the association and their members with digital services.
"The Democrat-Gazette has a long history of supporting our community, and this program is an extension of those efforts," says Conan Gallaty, executive vice president for digital, WEHCO Media, Inc. "Many associations across Arkansas fund scholarships for our youth, support charities and other local initiatives, and the Association Affiliate Program provides additional funding for them to achieve their goals."
The affiliate program includes a double advantage to associations and their members. Members get quality digital services at a discounted rate and the associations get a revenue stream with which to fund their special projects.
121 Digital Marketing is the digital marketing agency for the Arkansas Democrat-Gazette, which was formed in February 2013. The agency was formed to help small- to medium-sized businesses maximize their digital presence.
Since its inception in 2013, 121 Digital Marketing has helped over 100 new clients make meaningful progress in their online efforts by providing them with turn-key digital solutions, including social media management, mobile responsive website design, search engine optimization, search engine marketing, reputation management and short message text marketing.
Most associations deal with member acquisition and retention constantly. One of the most effective ways to do that is to create value in the membership. The 121 Digital Marketing Association Affiliate Program will give associations a way to help their members keep up with the evolving digital and mobile platforms and at the same time provide a revenue stream for the association.
Request your free Visibility Report.
About the Company:
121 Digital Marketing is a full-service Internet marketing solution company, providing businesses of all shapes and sizes with an array of Internet marketing services and strategies designed to boost web presence, expand customer base and drive up revenue. The digital era has arrived, and with it comes the challenge of capitalizing on technology to achieve business goals.121 Digital Marketing can help implement a multi-platform, online marketing strategy that delivers revenue growth by improving customer retention and customer acquisition. For more information, visit their website at http://121digitalmarketing.com or call Bill Little at 888-497-8331.