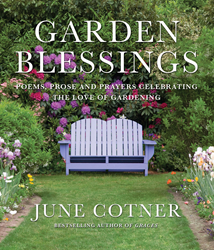 'Gardening is a medicine that does not need a prescription … and there's no limit on dosage.'—Anonymous, from Garden Blessings
(PRWEB) July 07, 2014
Bestselling author of Garden Blessings: Poems, Prose and Prayers Celebrating the Love of Gardening June Cotner was interviewed in a Fox News's "Spirited Debate" segment on how gardening can strengthen faith and spirituality. Fox described Cotner as "lifting up her readers with an offering of prayer and poetry based on gardening." The segment explores the poignant quotes offered in Garden Blessings, including the notion that "Gardening is a medicine that does not need a prescription …and there's no limit on dosage."
Join June in person at these live events:
7/7 East-West Bookshop, Mountain View, CA, 7:30pm
7/8 Towne Center Books, Pleasanton CA, 11am
7/8 Books Inc Berkeley, Berkeley CA, 7pm
7/10 Aldea Home, San Francisco, CA, 5pm
7/16 New Renaissance Books, Portland OR, 7pm
7/26 Wellesley Books, Wellesley, MA, 12pm
7/31 Out of the Box Healthcare, Kenner, LA, 1pm
8/7 East-West Bookshop, Seattle, WA, 7 pm
8/8 University Bookstore, Seattle, WA, 7pm
Garden Blessings: Poems, Prose and Prayers Celebrating the Love of Gardening is an eloquent tribute to the wonders of the garden, a place where souls are nourished and memories grown. While the book does feature classic and famous writers, much of this treasury includes new and award-winning authors, which results in discovering many selections not found anywhere else. Ranging from childhood memories of planting and harvesting to celebrations of the changing seasons to contemplation of the joyful art of gardening, Garden Blessings is a moving collection of poems, prayers, and reflections of what really matters—making and sharing memories.
"Once again, as she did with Graces, June Cotner has compiled a beautiful and highly readable book. Let it find a permanent place on your nightstand."
—Jack Canfield, author of Chicken Soup for the Soul
June Cotner is the author or editor of 28 books, including the best-selling Graces. June's latest love and avocation is giving presentations on "Adopting Prisoner-Trained Shelter Dogs." A graduate of the University of California at Berkeley, June is the mother of two grown children and lives in Poulsbo, WA, with her husband. Her hobbies include yoga, hiking, and playing with her two grandchildren. For more information, please visit June's website at junecotner.com.