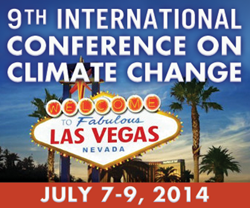 (PRWEB) July 07, 2014
Every minute of the Ninth International Conference on Climate Change will be live-streamed at ClimateConference.Heartland.org. The streaming starts with the opening night program at 7:45 p.m. PDT Monday, July 7, and ends when the conference closes at 4:00 p.m. PDT on Wednesday, July 9.
You can watch the live-stream at ClimateConference.Heartland.org or CNSNews.com.
The Ninth International Conference on Climate Change(ICCC9) is being held at Mandalay Bay in Las Vegas and is expected to attract more than 600 speakers, scientists, and guests willing to question whether man-made global warming is a problem worth addressing. The event has 32 cosponsors and features 60 prominent scientists and economists as keynoters or panelists. Click here to see the speaker list, and click here to see the event schedule.
Ten awards will be given during plenary sessions at the Ninth International Conference on Climate Change. For a list of award winners announced to date, click here.
"We've live-streamed parts of our climate conferences in the past, but this is the first time we've offered every session on a live-stream to anyone, anywhere in the world," said Jim Lakely, director of communications at The Heartland Institute. "We're pleased to partner with CNSNews.com to give this important conference even more exposure.
"There are no more excuses for those who say 'the debate is over' concerning climate science," Lakely said. "The debate will be happening next week in Las Vegas, and you can watch it all with the click of a button."
Reporters, bloggers, and the public can interact via the chat rooms on the live-streams or by following @HeartlandInst and the hashtag #ICCC9 on Twitter.
Program highlights include (ALL TIMES PDT):
Monday, July 7
8:00 p.m.: Keynote addresses by Joe Bastardi and Rep. Dana Rohrabacher (R-CA)
8:45 p.m.: Awards presented to Sherwood Idso and Willie Soon
9:15 p.m.: James Delingpole speaks, introduces Austrian rap artist Kilez More to perform the song "Klimawandel (Klimalüge, Klimaschwindel)" Translation: "Climate Change (Climate Lies, Climate Swindle)"
"My song 'Klimawandel' is one of my most discussed and most debated videos because people are not used to music with critical points of view on global warming," Kilez More said. "The reactions were enormous, because the massive propaganda in the mainstream media is overwhelming and other opinions are simply not accepted.
"I'm honored to present my song at the ICCC in front of an audience of experts on this topic," More added. "It's recognition of my work as a critical musician. I'm pleased the Heartland Institute liked the song and invited me to present it live on stage."
Tuesday, July 8
8:10 a.m.: Keynote addresses by Patrick Moore and John Coleman
9:00 a.m.: Awards presented to Patrick Moore and E. Calvin Beisner
10:00 a.m.: Panels titled "Climate Change and the Hydrosphere," "Carbon Taxes and the Social Cost of Carbon," and "Combating Climate Myths with Science Facts"
11:30 a.m.: Panels titled "NIPCC versus IPCC: Physical Science," "Who Benefits from Alarmism?" and "The Right Climate Stuff"
1:27 p.m.: Keynote addresses by Australian MP George Christensen and Patrick Michaels
2:05 p.m.: Awards presented to Alan Carlin and Tom Harris
2:45 p.m.: Panels titled "Solar Science and Climate," "Costs and Benefits of Renewable Energy," and "Communicating Climate Change: The Blogosphere"
4:15 p.m.: Panels titled "All Things Cold – Ice Age Conditions, the Cryosphere, and Recent Cold Winters," "Climate Change, Human Health, and Adaptation," and "International Perspectives on Climate Change"
Wednesday, July 9
8:00 a.m.: Breakfast keynotes by Dr. Roy Spencer and Dr. Jay Lehr
8:55 a.m.: Awards presented to Art Robinson and Roy Spencer
10:00 a.m.: Panels titled "Climate Change, Water, and Human Well-being," "Weather and Climate Change: Is Climate Change Affecting Weather Patterns and Events?" and "How Reliable Are Temperature Records? Is Global Warming Rapid and Dangerous?"
11:30 a.m.: Panels titled "NIPCC versus IPCC: Biological Impacts," "Peer Review, Herding, and the Reliability of Climate Science," and "New Estimates of Climate Sensitivity"
1:25 p.m.: Keynote address by Christopher Monckton, video speech by Sen. Jim Inhofe (R-OK)
2:05 p.m.: Awards presented to Fred Singer and Christopher Monckton
3:00 p.m.: Panels titled "Looking Ahead: Future Climates," "The Global Warming Debate in Australia," and "Global Warming as a Social Movement"
Global Warming Debate
The debate over the causes and consequences of global warming (or "climate change") is one of the great controversies of the modern era. While environmental activists and some politicians claim "the debate is over" and call for immediate action to reduce man-made greenhouse gas emissions, others say the science points to only a very small human impact – too small to warrant concern – and the costs of trying to prevent global warming far exceed the benefits.
For more information about The Heartland Institute, or for media inquiries, contact Director of Communications Jim Lakely at jlakely(at)heartland(dot)org or 312/731-9364.
The Heartland Institute is a 30-year-old national nonprofit organization headquartered in Chicago, Illinois. Its mission is to discover, develop, and promote free-market solutions to social and economic problems. For more information, visit our Web site.