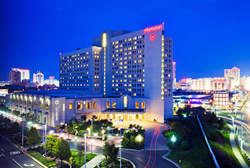 We are excited for the opportunity to partner with the Sheraton to bring an allergy travel option to Atlantic City
Atlantic City, NJ (PRWEB) July 08, 2014
As allergy travel becomes an increasingly recognized concern among US travelers, the Sheraton Atlantic City Convention Center Hotel has sought to make its guest rooms more comfortable for people suffering from asthma and other allergies.
The 502-room full-service Sheraton Atlantic City, which is located adjacent to the city's convention center, recently outfitted 25 of its rooms to make them more allergy-friendly. These rooms were installed by PURE Solutions, an allergy travel company that has installed hypoallergenic accommodations at nearly 300 hotels nationwide.
PURE Rooms are treated according to a patented 7-step process that kills and protects against 98-100% of viruses, bacteria and other harmful irritants. PURE technology creates a room that is more comfortable for people with asthma and allergies and also provides a more refreshing and rejuvenating experience for all hotel guests.
"We couldn't be more excited about these rooms," said Jeff Albrecht, General Manager at the Sheraton Atlantic City Convention Center Hotel. "PURE Rooms help us ensure that our hotel is comfortable and accommodating to all of our guests, including those with allergy travel needs."
CEO of PURE Solutions, Brian Brault also indicated his enthusiasm about his company's partnership with the Sheraton Atlantic City, which he described as an outstanding hotel for both leisure and business travel in one of New Jersey's most exciting cities.
"Our rooms are especially popular with business travelers, since they are constantly exposed to new environments where they are out of their normal allergy-management routines," Brault said. "We are excited for the opportunity to partner with the Sheraton to bring an allergy travel option to Atlantic City."
Whether venturing to Atlantic City for gaming, shopping, an event or business meeting, asthma and allergy sufferers can look forward to a pleasant and comfortable experience at the Sheraton Atlantic City Convention Center Hotel.
About PURE Solutions
PURE Solutions utilizes state-of-the-art purification technology to create allergy-friendly environments that are 98-100%-free of viruses, bacteria and other harmful airborne particles. Each PURE Room is comprehensively treated to remove allergens and irritants from all hard surfaces, fabrics and air. To learn more about the PURE process and to book a room at one of their 300 partnering hotels nationwide, visit pureroom.com.
About Sheraton Atlantic City Convention Center Hotel
Located in the heart of Atlantic City, the Sheraton Atlantic City Convention Center Hotel is just steps from the famous Atlantic City casinos, boardwalk, restaurants and "The Walk" shopping center. The 502-room full-service hotel is also adjacent to the Atlantic City Convention Center, making it the perfect destination for both business and leisure travelers. For more information about the Sheraton Atlantic City Convention Center Hotel, please visit their website at http://www.sheratonatlanticcity.com.
About Starwood Hotels & Resorts Worldwide, Inc.
Starwood Hotels & Resorts Worldwide, Inc. is one of the leading hotel and leisure companies in the world with 1058 properties in 100 countries and territories with 145,000 employees at its owned and managed properties. Starwood Hotels is a fully integrated owner, operator and franchisor of hotels, resorts and residences with the following internationally renowned brands: St. Regis®, The Luxury Collection®, W®, Westin®, Le Méridien®, Sheraton®, Four Points® by Sheraton, and the recently launched Aloft®, and Element SM. The company boasts one of the industry's leading loyalty programs, Starwood Preferred Guest (SPG), allowing members to earn and redeem points for room stays, room upgrades and flights, with no blackout dates. Starwood Hotels also owns Starwood Vacation Ownership, Inc., one of the premier developers and operators of high quality vacation interval ownership resorts. For more information, please visit http://www.starwoodhotels.com.