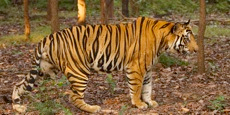 (PRWEB) July 14, 2014
WHO: Passage To Africa's international safari guide is Stephen Cunliffe who lived in India and just studied the wildest places in Asia to create an itinerary of India and neighboring countries.
WHAT: Three unique, back-to-back itineraries centered on an epic 12-day exploration of India's ultimate safari offerings.
WHERE: This Asia safari starts in India and explores the wild places in Sri Lanka and Nepal.
WHY: These safari itineraries are designed for safari aficionados who want to explore the last wildlife-rich wildernesses on the planet. It is for those hoping to journey beyond the Dark Continent into the Sub-Continent and for those who have always dreamt of seeing a tiger or Indian one-horned rhino in the wild.
WHEN: The itineraries run consecutively from January 24th to February 21st, 2015.
ITINERARY BRIEF: By Steve Cunliffe available here.
COST: USD $21,775 (for full safari excluding flights)
CONTACT: For more information, please email theteam(at)passagetoafrica(dot)com.
Website: http://passageexpeditions.com/Asia/