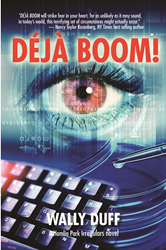 "Deja Boom! will strike fear in your heart, for as unlikely as it may sound, in today's world, this striking set of circumstances may actually occur." -- Nancy Taylor Rosenberg, NY Times Best-Selling Author
Omaha, NE (PRWEB) July 08, 2014
Unethical scientists? Drug dealers? Prostitution rings? Religious fanatics? Fanatical terrorists?
They have nothing on the Hamlin Park Irregulars. Neither do the CIA, FBI, NSA, DHS, and Chicago PD.
Investigative journalist Christina Thomas and the other mommies in Hamlin Park have their hackles up—and not because of their mind-numbing boredom and put-on-hold careers. Something seems to be dangerously amiss in their upscale Chicago suburb. Or is it?
When an odd, but avuncular stay-at-home dad, a houseful of shadowy men, a creepy dentist with an eye for young busty strippers, and a secretive Israeli family move into her neighborhood, Christina's reporter-radar kicks in.
Determined to uncover the breaking story that will reboot her career and spare her the monotony of writing society-page fluff pieces, Tina launches an investigation worthy of her Washington Post glory days. What she discovers, with a little help from her friends, will blow your mind!
"Desperate Housewives" meets "Charlie's Angels" in this action-packed mystery thriller by Wally Duff. "Deja Boom!" has more twists, turns, and thrill rides than the real housewives of Hamlin Park have bling, boob jobs, and Botox.
"Deja Boom!" is planned for a fall release and is the first novel in the Hamlin Park Irregulars Series of seven books.
Wally Duff practices otolaryngology, does magic shows for his grandchildren, and writes books, but not necessarily in that order. He and his wife, Mindy, have three grown children and three grandchildren. They live with their Bichon Frise, Bentley, in Omaha, Nebraska. He can be reached at http://www.HamlinParkIrregulars.com.