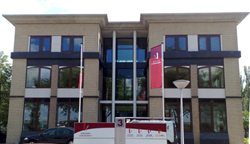 Personal login details in combination with a passcode obtained via SMS are used in the solution in order to clearly identify employees
(PRWEB UK) 4 July 2014
The project engineers of the Dutch firm Uticon Engineering Consultancy are often out on construction sites and therefore access their corporate network remotely. In order to provide secure access to the network, Uticon has installed the two-factor authentication solution SecurAccess from SecurEnvoy. Personal login details in combination with a passcode obtained via SMS are used in the solution in order to clearly identify employees.
Uticon manages industrial projects, primarily in the food and non-food sectors, as well as in the area of building systems and the biofuel industry. The engineering group always conducts its projects under the premise of "Progress in every process". Optimisation and sustainability are of particular importance for the engineering group - not only in construction projects but also with regard to the company's IT infrastructure. If the project engineers are out on site, they need remote access to the corporate network in order to retrieve the latest data. Previously, such access was not specifically secured. But during a seminar on the subject of security and remote access the IT staff from Uticon found out about the SecurEnvoy solution.
2FA installed in just one hour without interrupting ongoing activities
The SecurEnvoy experts presented the SecurAccess two-factor authentication solution (2FA) for the Uticon employees - a solution that does not require a dedicated token, but instead uses mobile devices such as mobile phones, smartphones, etc. After the live presentation had been made in person, and after carrying out their own research on the internet, the management at Uticon decided to install SecurAccess. Within just one hour, the IT staff had installed the software in the company's own infrastructure, which is based on a Dell PowerEdge server connected to a modem and with Windows 2008 R2. Employees who need to remotely access the company's network now receive a one-time passcode via SMS. They then enter this together with their personal login data when accessing the network remotely. The numeric sequence is sent as a Flash Message; as soon as it is entered, the code expires and is immediately replaced by a new one.
"We are particularly impressed by SecurAccess because of its tokenless approach," explains John Rooijackers, IT System administrator at Uticon Engineering Consultancy. "As a result, the entire solution is considerably cheaper, and also involves significantly less administration work on our part. For users, it provides a simple method of access, because the staff usually have their mobile phone with them anyway. A dedicated token, however, would have been an additional device that they would have had to think about and remember. We really like the passcode transmission via SMS because all generations of GSM-enabled mobile devices support this and because the process is straightforward. We are currently assessing the other delivery options such as email, soft token app etc. in order to ensure that we optimise the authentication process in line with our needs."
A video available on the SecurEnvoy Youtube channel highlights the functionality of SecurAccess.
High resolution images can be requested from securenvoy(at)sprengel-pr(dot)com.
About SecurEnvoy plc:
SecurEnvoy is the creator of patented tokenless solutions for two-factor authentication. Millions of global users already benefit from the fastest mobile authentication process available that doesn't require a token. The process uses commonly available devices like mobile and smartphones, tablets and laptops to provide the passcode required for authentication. Even without mobile phone reception or an internet connection, the user can retrieve the code via voice call or enable identification using one-swipe technology, which is based on a QR code scan. The product range of the company based in London (UK), Frankfurt (D), New York and San Diego (USA) includes the SecurAccess solution. The administration tools can easily be integrated into existing IT infrastructures and allow administrators to add up to 100,000 users per hour. SC Magazine awarded the solution 'Best Buy' and the company was classed as a leading visionary in Gartner's Magic Quadrant. SecurEnvoy has a customer base in all vertical segments, including banking, finance, insurance, government, manufacturing, marketing, retail, telecoms, charity, law and construction. The authentication expert collaborates with partners such as AEP, Astaro, Cisco, Checkpoint, Citrix, Juniper, F5, Palo Alto, Sophos, etc. See http://www.SecurEnvoy.com for further information.
Further information:
SecurEnvoy Ltd.
Steve Watts
Sales Director
E-mail: swatts(at)securenvoy(dot)com
Internet: http://www.securenvoy.com
Global HQ:
SecurEnvoy Global HQ
Merlin House
Brunel Road
Theale
Reading
RG7 4AB
USA branch I:
SecurEnvoy
373 Park Ave South
New York,
NY 10016
USA branch II:
SecurEnvoy
Mission Valley Business Center
8880 Rio San Diego Drive
8th Floor San Diego CA 92108
PR agency:
Sprengel & Partner GmbH
Nisterstrasse 3
56472 Nisterau, Germany
Germany
Contact partners:
Olaf Heckmann
Marius Schenkelberg
Tel.: +49 (0)26 61-91 26 0-0
Fax: +49 (0)26 61-91 26 0-29
E-mail: oh(at)sprengel-pr(dot)com
ms(at)sprengel-pr(dot)com
http://www.sprengel-pr.com