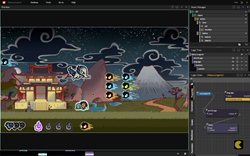 We are democratizing the creation of cross-platform casual games by unlocking the potential of HTML5 to be the foundation of web-based gaming.
Bilbao, Spain (PRWEB) July 09, 2014
WiMi5 today announced the first cloud-based game platform that lets developers and brands create, publish and monetize HTML5 games with ease, no programming required. WiMi5 radically reduces the time it takes to design and publish casual games. Built-in HTML5 developers are assured cross-platform compatibility for any web browser or mobile device including iOS, Android, Windows Phone or Firefox OS. WiMi5 was recently on demo at international video game conference Gamelab in Barcelona. As of today, the WiMi5 game platform is now available online for international audiences.
"We are democratizing the creation of cross-platform casual games by unlocking the potential of HTML5 to be the foundation of web-based gaming. WiMi5 takes casual game design to the next level, making it even simpler for designers to build a game, publish it across multiple sites and create a potential revenue channel in three easy steps," said Raúl Otaolea, CEO, WiMi5. "Our team has been working on HTML5 design for years, we wanted to create a tool that would make it easy for independent developers and brands to create elegant, fun and consistent casual game content for rapidly growing web and mobile audiences."
WiMi5's easy to use game editor lets beginners and experienced developers build games faster than coding. Upload backgrounds, graphics and sounds from your library to create custom games, or choose from one of the available templates for a quick start. Users can manage all game assets, behaviors and animations via the scene editor. Then using the logic editor, arrange sequence, game flow and resources. Simple drag-and-drop controls and visual menus let users build games without the need to program or code, significantly reducing game development time.
One-click publishing allows developers to share their game to a wider audience across several video game stores including the WiMi5 Game Arena, the Google Chrome Web Store and the Firefox Marketplace. WiMi5 actively supports new game releases in the Game Arena and invests in new player acquisition to help indie development studios and freelancers gain an early audience of active gamers.
The platform is entirely free and cloud-based, developers can create and design games from anywhere with Internet connection. Assets are available online and hosted on the WiMi5 platform. For developers interested in monetizing games, the Free2Play business model also offers a potential revenue channel that permits microtransactions. Gamers enjoy casual games with the option to buy virtual goods. When a player buys any virtual good, the game developer receives 70% of the revenue generated. All virtual goods are managed through the game editor to make it simple to design, publish and monetize in less time.
Following an initial private beta where over 800 developers from around the world participated; WiMi5 is now available in public beta for all developers. To sign up, or for more information go to: http://www.wimi5.com.
TAGS
WiMi5, HTML5, casual games, video games, mobile games, web-based games, free2play, game design, game development
About WiMi5:
WiMi5 lets you create, publish and monetize casual games in HTML5 without the need to program. The cloud-based editor reduces game development time and lets you create casual games for any mobile device. Launched in 2014, WiMi5 is based in Bilbao, Spain. The company is a spin-off from Tecnalia, the largest R&D center in Southern Europe. The technology used to create WiMi5 was developed in-house for several years prior to launch. WiMi5's goal is to unlock the potential of HTML5 as the foundation for the mobile gaming era.
http://www.wimi5.com