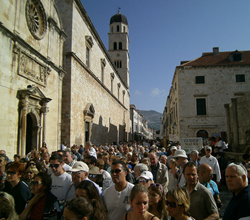 Cruise tourists need to leave a much greater economic footprint without the overcrowding.
(PRWEB UK) 4 July 2014
Reports suggest that the first anniversary of Croatia's entrance into the EU has not been marked by the economic growth hoped for a year ago and as the booming tourism industry last year accounted for almost 20% of Croatia's economic output, it seems that the country's reliance on foreign visitors is set to continue. Croatia's government aims to double tourism revenue by 2020, a worrying figure for those concerned about the long term impacts on the country's culture and environments.
Croatia has learned lessons from other emerging holiday destinations of the time, taking the preservation of its natural beauty and heritage seriously, with 444 protected areas in total, including 8 national parks. Stringent regulations also apply when it comes to developing large scale hotels near its picturesque shoreline. However, Responsibletravel.com believes this is not enough, and that the booming cruise industry must be controlled if Croatia is to retain its cultural authenticity.
For Dubrovnik, which has seen a four-fold increase in cruise passengers over the last decade, the revenue brought in by cruise passengers may not outweigh the problems caused by their presence. Dubrovnik Old Town's 1000 residents are regularly outnumbered up to 10 times by cruise passengers in the summer, and although a sustainability report by local authorities limited numbers to just 8000 cruise tourists per day, in peak season ships are allowed to exceed this.
The long-term cultural impacts in Dubrovnik's Old Town are concerning. With cruise passengers eating main meals on board, and with limited time to explore the town, many local cafes are turning into fast-food outlets, and craft shops into tacky souvenir stalls to meet tourist demands. There is also a worry that overcrowding in the city will deter land-based tourists, who spend more per day, stay longer and have a much greater economic impact.
Responsibletravel.com Managing Director Justin Francis says, "To have a positive impact in Croatia, cruise tourists need to leave a much greater economic footprint without the overcrowding, spending more time on shore, supporting small local businesses and bringing genuine benefits to local people."
Responsibletravel.com's new two minute guide to Croatia (http://www.responsibletravel.com/holidays/croatia) includes a wealth of advice on how to ensure a holiday in Croatia will benefit local communities and environments, and preserve cultural heritage. These include:

Spreading the wealth – some of Croatia's most beautiful areas are inland. Eastern Croatia, from Zagreb and beyond is often left off the tourist map, yet its landscape of wetlands, wineries and culturally rich towns are delight. These areas were also some of the worst hit in the wars, and are in need of tourist support.
Reducing waste - waste disposal on Croatia's complex network of islands can be costly and tricky. Leave unnecessary packaging at home and re-fill water bottles.
Learning the language - the 1960s saw a big movement to gain autonomy for the Croatian language when the country was still part of Yugoslavia – respect those who fought to protect it, and those who speak it now by learning a few words.
Going local - the boom in tourism has also resulted in a rush of investment in property, despite Croation traditions which see homes handed down through generations of the same family. Do your research and make sure your guesthouse is genuinely locally owned to bring maximum economic benefits to the local community.
Notes to editors:
About responsibletravel.com
responsibletravel.com is the world's leading online travel agent for responsible holidays and a pioneer of responsible tourism. Started in 2001 with backing from Dame Anita Roddick of The Body Shop the site's mantra is 'travel like a local'. It sells holidays that are about more than just a brief stay somewhere - instead it is travel that offers a real connection with the people, the landscape, the culture, the food and the environment. It offers over 7,500 responsible holidays from over 3,000 holiday providers which all support communities and conservation. Handpicked local specialists provide authentic holidays for those seeking adventure, culture, or luxury whether travelling with family, joining a small group or looking for tailor-made experiences worldwide, in destinations as diverse as Sabah - http://www.responsibletravel.com/holidays/sabah-and-sarawak, Sri Lanka - http://www.responsibletravel.com/holidays/sri-lanka and Spain - http://www.responsibletravel.com/holidays/spain.
In addition responsibletravel.com:

founded and organises The World Responsible Tourism Awards, celebrating 11 years at World Travel Market this year.
campaigns for positive change in the travel and tourism industry.
CEO Justin Francis has been included in Courvoisiers The Future 500, Thames and Hudsons 60 Innovators Shaping Our Creative Future and taken his place on the Advisory Board of The International Centre for Responsible Tourism at Manchester Metropolitan University.
The company is based in Brighton's North Laine district, England.
Contact:
Sarah Bareham
press(at)responsibletravel(dot)com
01273 829 269 (UK)