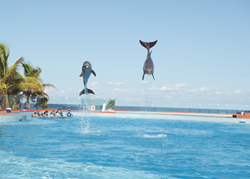 Dolphin Discovery Group is a company with history, responsibility, respect and ecological consciousness.
Riviera Maya, Mexico (PRWEB) July 08, 2014
Grand Sirenis Riviera Maya Resort & Spa announces the addition of Tulum-Akumal, the newest marine attraction by Dolphin Discovery in the Riviera Maya area. The dolphinarium, which opened in June, offers resort guests a once-in-a-lifetime opportunity to learn about, view, and play with Atlantic Bottlenose Dolphins.
"We are very happy about this collaboration with the world's leading company of dolphinariums. Swimming with dolphins is an unforgettable one-of-a-kind vacation experience for resort guests and represents a bonus to any guest staying at our hotel," commented Don Abel Matutes, Sirenis Hotels & Resorts President.
Set along the eastern shores of Riviera Maya, the Tulum - Akumal dolphinarium is a saltwater lagoon with breathtaking panoramic ocean views. As a member of Alliance of Marine Mammals Parks and Aquariums (AMMPA), Dolphin Discovery adheres to the highest standard of training and care of marine mammals. With a commitment to excellence, Dolphin Discovery has created a safe environment for both dolphins and guests.The oceanfront setting is home to four Atlantic Bottlenose Dolphins – Charly, Athos, Gigio and Porthos.Visitors can get an up-close perspective and understanding of the dolphins while floating in the lagoon, standing upon an underwater platform or on the observation deck encircling the lagoon.
Dolphin Discovery offers three unforgettable programs. Dolphin Encounter allows all family members the chance to get involved with the dolphins, where children as young as one receive a kiss, hug, and handshake from their new marine friends. Even more playful interactions during Swim Adventure and Royal Swim make for up-close, memorable experiences available to participants six years of age and up. Rates start at $39 for infants, $89 for minors and $119 for adults. When on property, Grand Sirenis guests can also ask about exclusive Dolphin Discovery promotions.
In addition to all of the great included activities at Grand Sirenis Riviera Maya Resort & Spa, this new facility located next door provides yet another fun on-property adventure without having to travel to another location. For details or to book a Dolphin Discovery reservation, please visit http://www.dolphindiscovery.com. For more information about Grand Sirenis Riviera Maya Resort & Spa or to book resort reservations, visit http://www.sirenishotels.com.
About Dolphin Discovery Group
Dolphin Discovery Group is a company with history, responsibility, respect and ecological consciousness, with the vision of creating a unique interactive program that lets the visitors have a closer encounter with the dolphins. Today, with 19 years of experience is the number one company worldwide in interactive programs with dolphins and other mammals like manatees, rays and sea lions. The company has reached new horizons in different locations in the world: Mexican Caribbean: Cancun-Isla Mujeres, Moon Palace, Costa Maya, Dreams Puerto Aventuras, Cozumel, Puerto Aventuras-Riviera Maya, Playa del Carmen and Akumal. Central Mexico and Pacific: Los Cabos, SixFlags Mexico and Vallarta. Caribbean Islands: Anguilla-BWI, Grand Cayman and Tortola-St. Thomas. Image gallery available for download at: http://www.flickr.com/photos/dolphindiscovery/.
About Grand Sirenis Riviera Maya Resort & Spa
Grand Sirenis Riviera Maya Resort & Spa is the perfect destination for families, couples and friends interested in a serene setting influenced by the culture and history of Mexico. The Mayan-inspired beachfront resort is situated alongside the largest coral reef in Riviera Maya and is enriched with Mexican heritage by an onsite Mayan Ruin and cenote. With 954 spacious Jacuzzi Junior Suites, Grand Sirenis is a true resort destination with a 30,140 sq. ft. award-winning spa, lazy river, kids club, plus multiple dining outlets and bars. A resort highlight is its sweet-and-salt-water lagoon, which is teeming with parrotfish, turtles and other tropical sea creatures.
About Sirenis Hotels & Resorts
Sirenis Hotels & Resorts is an international, family-run company with more than 40 years of experience in the hotel business. The company has a resort in Riviera Maya, Mexico, a resort in Punta Cana, Dominican Republic, and six hotels on the island of Ibiza in Spain, where the company is based. The hotels cater to all guests, from honeymooners to children and young adults alike, due to their stunning tropical settings and proximity to many nearby attractions. With lively swimming pools, multiple à la carte restaurants and a luxury spa, guests can relax and enjoy their vacation at any of their beachfront, picturesque locations.