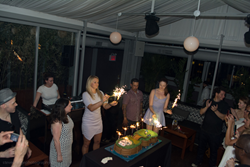 Fireworks happened to go off just after the cake was cut and Rich was convinced we organized that for him. I told him yes, we did that! - Bonnie McFarlane
New York, NY (PRWEB) July 05, 2014
Richard "Rich" Vos, seasoned comedian and a regular on the Opie and Anthony Show, celebrated his 57th birthday on Monday, June 30th at The Attic Rooftop & Lounge in Times Square with a custom Red Velvet and vanilla cream cake shaped like a short par three, golf ball eating alligators included. Vos was joined by about 200 close friends and family including his wife comedienne Bonnie McFarlane, Opie and his wife Lynsi, Jim Norton, Jeffrey Ross, Jeffrey Gurian, Caroline Hirsch, Cris Italia, Benjamin Prelvukaj, Todd Barry, Jeffrey Joseph, Keith Malley, Chemda Khalili, Jim Florentine, Keith Robinson, Charles Ferri, Rocco Cafferelli, Prince Lorenzo Borghese, Cathy Reppert and Marc Williams of MarcCo Custom Jewelers.
The weather could not have been nicer as if the heavens themselves wished Rich Vos a very happy birthday. Guests joining in the festivities enjoyed a majestic and panoramic rooftop sunset located on the 16th floor of the Hilton Garden Inn on 48th and 8th and only accessible via a private security controlled elevator.
The guest of honor escorted by his loving wife, Bonnie McFarlane arrived approximately thirty minutes after the start of the event looking more confused than surprised. Later it was learned that security had actually asked Mr. Vos upon entry if he was there for the Vos party. A significant hint, but not enough to prepare him for what would be waiting as the elevator doors opened. The firsts to welcome Rich and elicit his one of a kind smile were his anxiously awaiting and delightful daughters.
Partygoers were treated to specialty cocktails prepared by the evening's sponsors UV Vodka, Coldcock Whiskey and Maiolatesi Wine Cellars. Food pairings were offered by Benjamin's Steakhouse and The Sea Fire Grill providing second-to-none Porterhouse Bites with their signature creamed spinach, Tuna Tartar and Lobster Sliders. Benjamin Prelvukaj, the owner was there personally to ensure everyone's satisfaction.
Prince Lorenzo Borghese, owner of RumGolf, the first Resort-centric Sportswear & Accoutrements line was on hand to present Rich, an avid golfer with some select items from their collection. Marc Williams of MarcCo Custom Jewelers presented a custom, hand made pendant of his own design with the letters "VOS" emblazoned on the front.
Then there was the cake…a four-foot, extremely heavy masterpiece of artistic and expert design. One of the most memorable and delicious highlights of the event, this cake just went beyond. The Red Velvet and Cream confection was shaped like a small golf course with Rich's white BMW stuck in a sand trap and a fondant figurine of the man himself on the green having just missed a putt. "I knew Rich loves to golf and when Marc Boriosi told me to have a little fun with the design, that is just what I did," said Cathy Reppert, the Cake Artist and owner of Truly Scrumptious Cake Studio located on Wyoming Avenue in Kingston, PA.
Hosted by Marc S. Boriosi and Jeff Krauss and sponsored by The Levity Ball, Benjamin's Steakhouse, The Sea Fire Grill, Coldcock Whiskey, UV Vodka, Maiolatesi Wine Cellars, Truly Scrumptious LLC, RumGolf and MarcCo Jewelers.