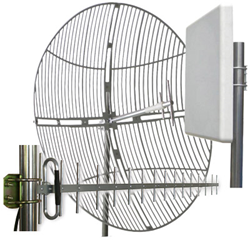 (PRWEB) July 05, 2014
ZDA Communications is named by many review sites as one of the top suppliers of antenna products. Recently, the business has introduced its new 900 MHz antenna collection, which includes 900 MHz Yagi antenna, 900 MHz parabolic dish antenna, 900 MHz Omni directional antenna, 900 MHz External wireless antenna and more.
According to the sales director of the company, these new antennas are specially designed for Motorola canopy, Non Line of Sight (NLOS), RFID & SCADA, RFID, Wireless Video Links & 900MHz Cellular, Wireless LAN systems, Point to Point, Point to Multipoint applications, etc.
All ZDA's products are designed to enable customers to create a wide range of experiences (applications, security solutions and more). The business has a great product team with great ideas and an inspiring staff committed to creativity and innovation
In addition to the new 900 MHz Yagi antennas, ZDA's hot-selling models, including 2.6 GHz Parabolic dish antenna series, 700 MHz Yagi antennas and more, are also available at its website. ZDA Communications is assured of the products' quality, effectiveness, and safety. Customers are encouraged to report the effects related to the use of these products.
"Customer satisfaction is what we completely expected, and we will do everything we can do to provide premium quality products for our clients," the spokesman for ZDA Communications says. "Please visit our website right now, and it is featured with our latest UHF antennas and promotional information."
About ZDA Communications
ZDA Communications US LLC is a leading manufacturer and supplier of all kinds of wireless antennas, including Yagi antennas, Parabolic dish antennas, cell tower sector antennas, External wireless antennas, mobile antennas, Broadband and Ultra Wide Band Antennas. For more details of the company and its products, please visit http://www.zdacomm.com/900-mhz-antenna/.