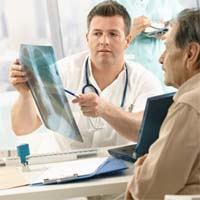 Pemetrexed is not likely to accumulate in the pleural fluid...
Raleigh, NC (PRWEB) July 07, 2014
A new Danish study suggests that the practice of draining off lung fluid to avoid pemetrexed (Alimta) toxicity may not be necessary for all patients. Surviving Mesothelioma has just posted details of the new study for mesothelioma patients and their families. Click here to read it now.
Researchers at the University of Copenhagen tested the concentration of the popular mesothelioma drug, pemetrexed, in the pleural fluid and plasma of eight lung cancer patients. They found that, unlike the similar drug methotrexate, pemetrexed does not tend to stay in the pleura.
"Pemetrexed is not likely to accumulate in the pleural fluid and evacuation of fluid might not be necessary," writes lead investigator Per Hartvig Honoré, a Professor of Pharmacokinetics at the University of Copenhagen.
The new study in Cancer Chemotherapy and Pharmacology points out that, although little research has been done on accumulation of pemetrexed in third-space fluid, the fluid draining recommendations were the same because pemetrexed is an analog of methotrexate.
"If this research leads to a change in the recommendation, it is potentially good news for mesothelioma patients since fluid evacuation can be painful and can raise the risk of infection," says Surviving Mesothelioma's Managing Editor, Alex Strauss.
See Fluid Drainage with Chemotherapy May Be Unneeded to learn more about the Danish study and chemotherapy with pemetrexed, the primary drug used to treat malignant pleural mesothelioma.
Honore, PH et al, "Third-space fluid distribution of pemetrexed in non-small cell lung cancer patients", June 17, 2014, Cancer Chemotherapy and Pharmacology, Epub ahead of print, http://link.springer.com/article/10.1007%2Fs00280-014-2485-x#page-1
For nearly ten years, Surviving Mesothelioma has brought readers the most important and ground-breaking news on the causes, diagnosis and treatment of mesothelioma. All Surviving Mesothelioma news is gathered and reported directly from the peer-reviewed medical literature. Written for patients and their loved ones, Surviving Mesothelioma news helps families make more informed decisions.